Letter from Our CEO
CDT President & CEO Alexandra Reeve Givens: "In 2020, we engaged directly with the tensions between democracy and technology, fulfilling our mission of putting democracy and individual rights at the center of the digital revolution."
Below are some of our proudest accomplishments from 2020, covering every issue we work on and involving every person on our team. Our work has never been more important.
Alexandra Reeve Givens Welcomed as New CDT President & CEO
A new era at CDT began in May under the leadership of Alexandra Reeve Givens, a former Congressional counsel with deep expertise at the intersection of technology, law, and public policy. Alex came to us from the Institute for Technology Law & Policy at Georgetown Law, where she was the Founding Executive Director.
She previously served as Chief Counsel for intellectual property and antitrust issues on the U.S. Senate Judiciary Committee and as an attorney in private practice. Alex serves as Vice Chair of the Christopher & Dana Reeve Foundation and is a mayoral appointee on D.C.'s Innovation and Technology Inclusion Council. She brings with her a passion for ensuring technology increases equality, amplifies voices, and promotes human rights.
CDT Files Suit Against Trump's Executive Order Targeting Online Speech
In June, we filed suit challenging President Trump's Executive Order on Preventing Online Censorship. We argued that the Executive Order — which the President issued after social media sites sought to fact check misleading information he had posted about mail-in voting — violated the First Amendment by curtailing and chilling the constitutionally protected speech of online platforms and individuals.
CDT and voting organizations took a stand against the Order because of its clear intent to deter social media services from fighting misinformation, voter suppression, and the stoking of violence on their platforms.
In the lawsuit, we were represented by the law firm Mayer Brown, one of the many firms, law clinics, and individuals who support CDT's advocacy with pro bono assistance through our Collaborating Attorney Network. The network has recently helped us file amicus briefs in other high-profile suits, including Microsoft v. U.S., Van Buren v. U.S., Google v. Oracle, Georgia v. Public.Resource.Org, and Mozilla v. FCC.
Securing the 2020 Presidential Election
Politics and technology intersected more than ever during the 2020 U.S. presidential election, with a surge in voting by mail during the coronavirus pandemic, the rise in online disinformation, and sustained efforts to falsely discredit mail-in voting and the stability of the election.
To safeguard the democratic process and ensure that every vote counts, we produced two widely-viewed public service announcements that attracted hundreds of thousands of viewers: one explaining why voting by mail is safe and secure; and another helping voters identify misinformation and disinformation designed to disrupt the election.
Our elections team also produced a course for election officials on combating misinformation and provided technical training to election staff and volunteers, held briefings for press and State Attorneys General, and created field guides on election security issues.
Grappling with the Profound Legal, Ethical, Policy Questions of AI
Algorithms and artificial intelligence (AI) play an increasingly central role in modern life, from determining search engine results and social media content to eligibility for jobs and benefits. Computer programs that "learn" to recognize patterns and make decisions by studying massive amounts of data raise complex questions of law, ethics, and policy. In 2020, we ramped up efforts to tackle many of these questions, exploring the use of algorithmic systems in hiring, in education, in the delivery of government services, and more.
We looked at the impact of algorithmic systems on historically underrepresented communities and continued our calls for increased transparency. We continued our work monitoring the use of automated systems in online content moderation, and participated in regulatory efforts led by NIST and the EU. Much of our work on AI is done in collaboration with global technical experts, civil rights leaders, and affected communities.
We are a longstanding member of the Partnership on AI and, in partnership with the R Street Institute, lead the Governance & Research for Artificial Intelligence Leadership (GRAIL) Network, which facilitates engagement between policymakers and data scientists, researchers, and academics who focus on artificial intelligence. With support from the Ford Foundation, we're expanding our work to place a specific focus on the impact of algorithm-driven decision making for people with disabilities.
Integrating Disability Rights into Tech Policy
As tech policy increasingly grapples with questions of bias and discrimination, one form of bias often goes overlooked: the impact of AI and other technologies for people with disabilities. In 2020, we launched a new program specifically focused on these issues. Guided by our AI-Disability Rights advisory council, which includes leading experts in disability policy, we explored how AI tools in hiring can not only be unfair to people with disabilities, but also illegal.
We highlighted how governments are increasingly turning to algorithms to determine whether, and to what extent, people should receive crucial benefits for programs like Medicaid — and how these tools are frequently reducing and denying benefits with unfair results. We convened a forum on the protection of health-related data with national and grassroots disability organizations, and we weighed in on how predictive policing, remote-exam proctoring, and school-based surveillance can discriminate against people with disabilities.
CDT's New Research Team Highlights Scholarship Gap at Intersection of Disinformation, Race, and Gender
Civil society groups have been working to combat online disinformation issues for years, but there is a lack of academic research to understand the impacts of mis- and disinformation on communities of color and across gender identity.
In September, our new Research Team — which is supported by a transformational grant from the Knight Foundation for work examining technology's impact on democracy — convened international experts to identify key research questions about how race and gender are used in disinformation efforts. The CDT report that followed makes recommendations for a future research agenda and how to tackle the methodological problems that researchers face in addressing these topics.
Working with Airbnb and Civil Rights Groups to Fight Discrimination
For nearly two years, we partnered with other civil rights and privacy rights organizations to work with Airbnb to help the consumer tech company measure and evaluate discrimination on its platform in the U.S. The resulting initiative, Project Lighthouse, will help Airbnb combat racial discrimination and bias that Black users and other people of color have faced when using the service. Our partners in the project included Asian Americans Advancing Justice (AAJC), Color Of Change, League of United Latin American Citizens (LULAC), National Action Network, The Leadership Conference, and Upturn.
CDT Joins Civil Rights and Tech Advocacy Groups to Release Civil Rights Principles for the Era of Big Data
In a world where daily life is increasingly shaped by rapidly advancing technologies that rely on big data to make decisions, the civil rights of vulnerable communities are especially at risk. That's why we partnered with The Leadership Conference on Civil and Human Rights — the nation's oldest, largest, and most diverse civil rights coalition — and 24 allied organizations to unveil a new set of civil rights principles for the digital age. The principles are designed to address current threats to civil rights, including the use of surveillance technology and discriminatory and predatory use of personal information.
Civil Rights Leader Laura W. Murphy Joins CDT Board of Directors
In December, we were honored to welcome civil rights leader Laura Murphy to our Board of Directors. For decades, Laura has advocated on a range of issues that sit at the core of CDT's work — freedom of expression, freedom from surveillance, consumer privacy, anti-discrimination, and more. She spent 17 years leading the ACLU Legislative Office, where she advanced executive branch policies and federal legislation on free speech, national security, internet privacy, and LGBT and civil rights. She has testified more than a dozen times before Congress and recently led the external team that conducted Facebook's multiyear Civil Rights Audit.
Launching the Global Encryption Coalition to Protect Privacy
Technology makes it possible for us to consult with doctors, make financial transactions, and help children learn online. Encryption is what makes it possible for us to do this privately and securely. But encryption is increasingly under attack around the world as governments try to compel companies to build ways for law enforcement to access and manage private, encrypted communications.
That's why we organized more than 30 other stakeholders in 2020 to launch the Global Encryption Coalition. Working together with technology experts and the private sector, the group is helping activists on the ground in key areas where encryption is under threat, like Australia, India, and Brazil.
Meet CDT Europe's New Director
With the growth of our international reputation as a resource on protecting human rights in a digital world, we appointed Iverna McGowan as director of CDT's European office in Brussels. A prominent leader in human rights advocacy in the European Union, Iverna comes to us from the United Nations Human Rights Office of the High Commissioner, where she led efforts to protect online civic space.
In 2020, we worked with EU institutions and Member States to ensure that legislation protects core liability limitations enabling freedom of expression, while addressing concerns related to hate speech, terrorist content, and online disinformation. CDT Europe is also deeply engaged on the issues of artificial intelligence, government surveillance and access to personal data, and data protection and privacy.
CDT Welcomes New Policy Director
In 2020, we welcomed Samir Jain as Director of Policy to lead our advocacy efforts. Samir served in the Obama Administration as Associate Deputy Attorney General at the Department of Justice and as Senior Director for Cybersecurity Policy for the National Security Council. In private practice, his work spanned a range of regulatory and litigation matters, including playing a lead role in litigation that interpreted Section 230 of the Communications Decency Act.
Tech Prom Goes Virtual
One of the hottest events on the technology policy calendar — CDT's Tech Prom — couldn't be held in person in 2020 due to the pandemic, but the annual soirée didn't skip a beat as we took it online. Virtual Tech Prom brought together current and former leaders from government, academia, foundations, civil society organizations, and the corporate sector for a night of networking and conversation.
Featured speakers included FTC Commissioners Noah Phillips and Rebecca Slaughter, FCC Commissioner Geoffrey Starks, U.S. Election Assistance Commissioner Thomas Hicks, former UN Special Rapporteur on the Right to Freedom of Expression David Kaye, Facebook Oversight Board Member Julie Owono, and many others. We are particularly grateful to the platinum sponsors — Amazon, Apple, Facebook, Google, Intel, Mayer Brown, and Microsoft — for the support that made the evening possible.
Defending Global Internet Freedom
In June, we joined a massive coalition of more than 500 organizations and thousands of individuals asking lawmakers to protect the most effective program the U.S. has for defending internet freedom: the Open Technology Fund (OTF). We fought, successfully, to ensure that the new leadership of the U.S. Agency for Global Media didn't dismantle the program.
Over the past eight years, OTF and the projects it supports have enabled more than 2 billion people in over 60 countries to safely access the internet free from censorship and repressive surveillance. Through OTF-funded projects, millions of people in Mainland China leap over the Great Firewall, Cubans access independent news reporting and communicate securely without an internet connection on the island, thousands of activists avoid repressive surveillance in Iran and circumvent internet shutdowns in Turkey, and journalists stay safe online in Russia.
Protecting Privacy at the U.S. Border
In 2020, we fought against warrantless searches at the U.S. border and the dramatic expansion of the collection of biometric data. We urged the Department of Homeland Security (DHS) to withdraw a proposed rule that would unjustifiably double the population of immigrants and U.S. citizens from whom DHS could seek sensitive personal information, including iris scans, facial images, palm prints, and DNA test results.
In the Alasaad v. Wolf case, we filed an amicus brief arguing that the border search exception of the Fourth Amendment is erroneously interpreted by the U.S. government, and does not permit the rising number of warrantless, suspicionless searches of travelers' electronic devices.
CDT also opposed a U.S. Customs and Border Protection proposal that would force all non-U.S. citizens to be subject to facial recognition screening whenever they enter or depart the country, highlighting questions about the technology's ability to work as intended and to provide an equitable experience for all.
CDT Brings Nationwide Awareness to Challenges of Student Privacy and Remote Learning
During the pandemic, our student privacy project rapidly pivoted to focus on questions of privacy, security, and equity in remote learning — reaching educators, school officials, and public audiences around the country. In October, we appeared on dozens of radio stations across the country to share the results of our research that polled parents, teachers, and students about education technology and student privacy.
Demanding Solid Legal Ground for Security Researchers
The vital work of security researchers is often hindered by laws like the Computer Fraud and Abuse Act (CFAA), which was originally written to fight growing security threats from malicious attacks on computers and networks. Instead, it has led to the prosecution of good-faith security researchers. In 2020, we filed an amicus brief in the Supreme Court case Van Buren v. United States arguing that the law should be interpreted more narrowly to give more legal cover to security researchers. We also petitioned the U.S. Copyright Office to exempt security researchers from Section 1201 of the Digital Millennium Copyright Act, allowing them to circumvent digital locks for lawful and legitimate reasons and provide legal clarity about what liabilities they might face.
There are some important themes in the our team's work from 2020. We explore what those features are, what we did, and what kind of impact they've had. Take a deep dive with us.
Fighting for Human Rights in the COVID Crisis
As government leaders, policymakers, and tech companies searched for solutions to slow the spread of COVID-19, CDT actively monitored responses and worked to ensure that they are grounded in civil rights and liberties.
Advancing Equity in Technology Policy
As technology defines our society and institutions in ever-evolving ways, we are fighting harder than ever to advance policies, laws, and technical designs that empower people to use technology for good, while protecting against invasive, discriminatory, and exploitative uses.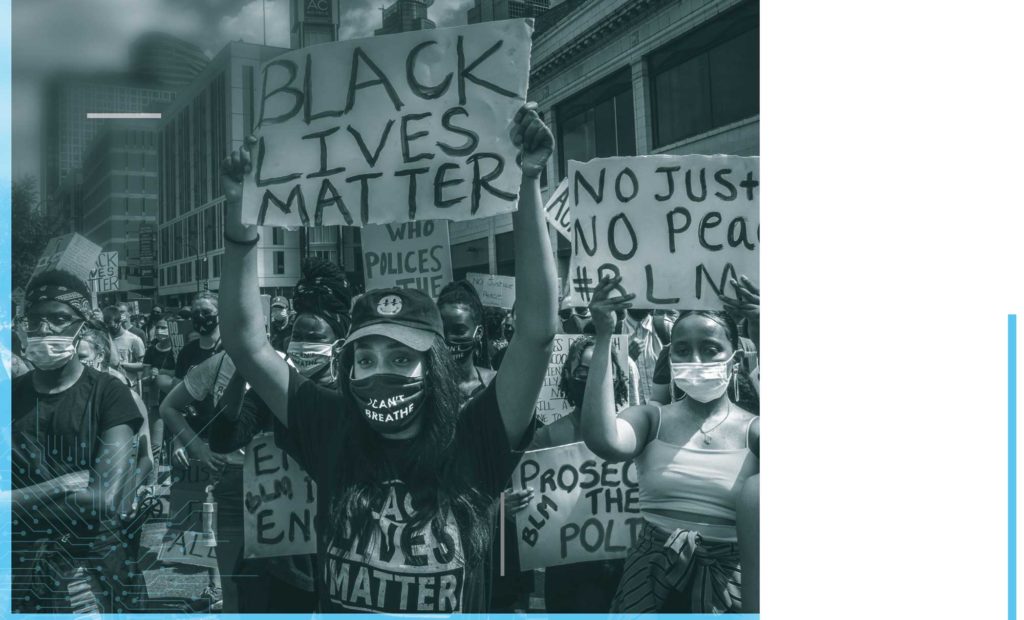 Protecting the Future of Digital Discourse
In 2020, the public, policymakers, and researchers increasingly focused on the harms flowing from misinformation, disinformation, and the undermining of facts about key topics in our society — particularly concerning the COVID-19 pandemic and national elections in the U.S.
Financials
CDT is committed to sound financial stewardship and transparency. We have received clean audits each year from an independent auditing firm and have high ratings from nonprofit watchdogs Charity Navigator and GreatNonprofits. Our profuse thanks to our 2020 donors who make our work possible.
Board & Council
We are especially grateful to those who offer important insights on a regular basis and help to guide our work. We could not have such an outsized impact without your energy and efforts.
Previous Years
Reports from previous years.