Alexandra Reeve Givens Named President & CEO of the Center for Democracy & Technology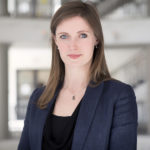 Today, the Board of Directors of the Center for Democracy & Technology (CDT) announced that Alexandra Reeve Givens has been named President & CEO, effective May 11, 2020. Givens will succeed Nuala O'Connor, who led CDT for nearly six years.
"Alex Givens is a champion for equal justice and civil liberties, and is the founding Executive Director of Georgetown Law's Institute for Technology Law & Policy. Alex was selected after a six-month exhaustive search, and her track record of accomplishments and innovation coupled with her outstanding reputation in the field makes her a natural choice. The Board is excited for Alex to lead CDT's efforts in vigilantly protecting democratic values around the globe in the digital age," said William S. Bernstein, Chairman of CDT's Board and Partner at Manatt, Phelps & Phillips, LLP.
Givens has deep expertise at the intersection of technology, law, and public policy, particularly on privacy, algorithmic fairness, competition, and online speech. Givens comes to CDT from the Institute for Technology Law & Policy at Georgetown Law, which she led as the organization's founding Executive Director. During her time there, she set the Institute's research agenda and served as a founding leader of Georgetown's university-wide Initiative on Tech & Society. Givens was previously Chief Counsel for IP and Antitrust with the U.S. Senate Judiciary Committee, developing legislative and oversight strategy for its then Chairman and Ranking Member, Sen. Patrick Leahy of Vermont.
"As technology continues to transform societal interactions, access to economic opportunity, and the foundations of our democratic institutions, CDT's commitment to strengthening individual rights and freedoms online has never been more important," said Givens. "I have followed and admired CDT's advocacy for years. I am honored to join this phenomenal team and to continue CDT's 25-year legacy as a trusted source of thoughtful solutions that advance and protect the public interest."
"We are thrilled to welcome Alex Givens as CDT's new President," said Alan Davidson, Chair of CDT's Search Committee, and Vice President of Global Policy, Trust, and Security at Mozilla. "Alex is a rising star in our field. She has a profound commitment to CDT's human rights and digital justice mission, and is a proven institution builder. Alex shares essential CDT qualities that the world badly needs: rich expertise, a practical voice, and the drive to create a better internet for everyone. We can't wait to see what she will do."
In addition to her time in academia and government, Givens is an experienced nonprofit leader, currently Vice-Chair of the Board of Directors of the Christopher & Dana Reeve Foundation. She also co-founded and serves on the board of BEACON: The DC Women Founders Initiative, a program to support women entrepreneurs. She is a current mayoral appointee to Washington, D.C.'s Innovation & Technology Inclusion Council, and is frequently recognized as a leader in technology in D.C.
Givens began her career as a litigator at Cravath, Swaine & Moore in New York City, and taught for five years as an adjunct professor at Columbia University School of Law. Givens holds a B.A. from Yale University and a J.D. from Columbia University School of Law.
Givens will make her first public remarks as President & CEO at CDT's 25th Anniversary Tech Prom on April 23, 2020.