The Center for Democracy & Technology is as old as the commercial internet, and was one of the very first advocacy groups working to build civil rights into the foundation of the digital revolution. Through the years, CDT has been a leader in championing policies, laws, and technical designs that empower people to use technology for good, while protecting against invasive, discriminatory, and exploitative uses.
A LOOK BACK
Over 25 years, a lot has changed and CDT continues to evolve to address emerging challenges. The best is yet to come.
* World Wide Web invented (1989)
* CDT founded by the team of Jerry Berman, Janlori Goldman, Deirdre Mulligan, Jonah Seiger, and Danny Weitzner (1994) 
* Fought extension of the Communications Assistance for Law Enforcement Act to the internet (1994) 
* AOL grows to 3 million users (1995) 
* CDT defeats the U.S. government's attempt at backdoors in phones, the Clipper Chip (1996)
* CDT helps draft the Internet Freedom and Family Empowerment Act, which becomes known as "Section 230" (1996) 
* CDT uploads the

Reno v. ACLU

decision to the internet from the steps of the Supreme Court, as Court strikes down the bulk of the Communications Decency Act (1997)

* CDT ensures free expression rights are respected in the Children's Online Privacy Protection Act (1998)
* The dot-com boom busts (2000) 
* World internet usage surpasses 500 million people (2001)
* CDT helps launch the Anti-Spyware Coalition (2003)
* CDT holds its inaugural Tech Prom (2004) 
* Leslie Harris named President and CEO of CDT (2005) 
* World internet usage surpasses 1 billion people (2005)
* CDT helps convene process that leads to creation of the Global Network Initiative (2008) 
* CDT helps launch Digital Due Process Coalition to build consensus on updating the Electronic Communications Privacy Act (2010) 
* CDT helps defeat SOPA/PIPA (2012)
* Smartphones become ubiquitous, comprising more than half of mobile phones sold (2013)
* CDT launches full-time presence in Brussels (2013) 
* Nuala O'Connor named President and CEO of CDT (2014) 
* Tech Talks, CDT's podcast, is launched (2015) 
* USA FREEDOM Act passed following CDT-led campaign (2015)
* CDT's Advisory Council re-launched (2016) 
* CDT complains to the FTC about undisclosed data sharing in the VPN industry (2017)
* CDT sues the FCC to protect strong net neutrality rules (2018)
* World internet usage surpasses 4 billion people (2018)
* CDT calls for comprehensive federal privacy rules in the U.S. and is the first group to release a draft bill for discussion (2018)
* Alexandra Reeve Givens named President and CEO of CDT (2020)
Below are some of our proudest accomplishments from the 2018-2019, covering every issue we work on and involving every person on our team. Our work has never been more important.
Pushing Back Against FOSTA
When the controversial Allow States and Victims to Fight Online Sex Trafficking Act (FOSTA) was passed into law in 2018, CDT warned of the chilling effect it would have on online speech. That has unfortunately proven true, especially for legal speech related to health and sexuality. CDT filed an amicus brief in support of a challenge to FOSTA brought by the Woodhull Freedom Foundation, and continues to support changes to the law.
Collaborating Attorneys Network Launched 
Thanks to more than 1,000 hours of pro bono support from attorneys, CDT is able to better advance our mission in the courts. The Collaborating Attorneys Network is an essential resource for our advocacy and includes attorneys from major law firms across the United States and Europe, who have helped CDT file or sign on to briefs in legal venues across the world.
Challenging Mandates for Automated Content Filtering in the EU 
As the EU Copyright Directive continued to advance through Parliament, CDT and a coalition of NGOs opposed sections of the Directive that would require platforms to use automated content filtering tools to address copyright infringement. The proposal, which passed in April, remains a threat to fair use principles and will lead to the removal of large swaths of legal speech.
Illustrating the Risks of School Safety Bills
In the wake of tragic school shootings, policymakers and educators are searching for ways to keep students safe. Unfortunately, quite a few proposals include broad surveillance measures, such as mandates to build threat assessment databases about students and monitor their social media, despite lack of evidence of efficacy. CDT pushed back against a particularly troublesome bill in Georgia, which was vetoed by the governor, and shared guidelines for schools considering the use of data to address school safety issues.
Protecting Global Free Expression Rights with a Win in the EU
In a welcome recognition of the free expression issues at stake, the Court of Justice of the European Union ruled in a long-awaited case that search engines are not mandated by law to implement right-to-be-forgotten delisting of search results globally. CDT and other human rights advocates had urged the Court to do so, arguing that it would be detrimental to free expression rights if states were able to impose restrictions on permissible speech outside their own territory.
Highlighting the Importance of Strong Fair Housing Protections
The U.S. Department of Housing and Urban Development released a proposal that would significantly weaken protections against housing discrimination. A core part of the proposal was the use of algorithmic systems to make decisions, and the shielding of these decisions from being challenged in disparate impact claims. CDT submitted comments to HUD, highlighting how easily algorithmic decisions can be biased, and how the proposal would make it significantly harder for the most vulnerable communities to protect themselves from disparate impact.
Talking Copyright Issues Before the Supreme Court
CDT filed an amicus brief in Georgia v. Public.Resource.org before the Supreme Court, arguing that annotated official versions of state laws should not be subject to copyright. In this case, the annotated state code is designated as the only authoritative source of Georgia law, and we encouraged the Court to provide unrestricted access to the public
Informing AI Policy Debates with Research 
To infuse more research into the policy debates around AI, CDT partnered with the R Street Institute to launch the Governance Research in Artificial Intelligence Leadership network, GRAIL. The network includes academic researchers from a range of disciplines, and addresses issues around privacy, intellectual property, competition, and more. The GRAIL network's experts are a valuable resource helping policymakers understand the real-world impact of proposals governing AI.
Demanding Action from Congress on Election Security 
In advance of the 2020 presidential election, Congress had numerous opportunities to enhance the cybersecurity of election systems, yet failed repeatedly to act. They passed meager election security funding proposals, allocating only $250 million to states while letting more comprehensive improvements repeatedly stall. CDT continued to advocate for urgent Congressional action to protect this pillar of democracy and get funds to the states that need the most help securing their systems. We also worked directly with the federal Election Assistance Commission and state legislatures, and trained election officials representing more than 47 million potential voters in how to tackle the particular cybersecurity challenges they face.
Providing Guidance on the Use of Algorithms in K-12 Education  
Algorithmic systems are becoming pervasive in our society, and the K-12 education space is no exception. Schools, districts, and states are turning to algorithmic systems to help them make all sorts of decisions, from assigning students to schools, to keeping students safe, to preventing students from dropping out. CDT provided guidance to educators to help them leverage some of the benefits of algorithmic systems while protecting students, particularly from the most vulnerable communities, from unintended harms.
Calling for Increased Transparency on U.S. Bulk Collection Practices
 The U.S. government has been adamant that it needs to shield some of its surveillance practices from judicial review to protect national security. CDT fundamentally disagrees, especially around its bulk collection of data from internet cables. In a report, "Not a Secret: Bulk Interception Practices of Intelligence Agencies," CDT outlined why greater transparency around these practices is not only possible, but already the practice in other countries.
Intervening at the European Court of Human Rights to Stop Bulk Collection 
CDT filed a legal brief with the European Court of Human Rights opposing the United Kingdom's bulk interception regime, which allows intelligence agencies to tap the fiber cables carrying internet traffic to analyze all electronic data going in or out of the U.K. CDT's brief in Big Brother Watch v. the U.K. argues that the U.K.'s use of data received by the U.S. violates obligations under the European Convention on Human Rights.
Opposing Persistent Warrantless Surveillance 
For eight months, law enforcement put a Massachusetts home under persistent video surveillance using a camera placed on a utility pole. With a view of the driveway and the front of the house, officers could—remotely and at their leisure—monitor the comings and goings of the residents of the home, their visitors, and any passers-by for months on end without a warrant. We filed an amicus brief demonstrating how this violates the Fourth Amendment to the Constitution.
Launching a Project Exploring Competition, Data, and Power
As calls to "break up big tech" grow louder, we decided to bring CDT's practical voice to debates around competition and antitrust. At CDT, we are focusing on the facts of how users and consumers are affected by basic price competition, squelched innovation, and wielded market power. We highlighted the need for the government to take creative approaches to applying the U.S.'s broad and flexible antitrust laws to the technology sector. We also shared our opinions on how particular corporate mergers would affect markets, and filed comments with agencies in the U.S. and abroad, all with the goal of building a digital economy that works for everyone.
Standing Firm Against Calls to Weaken Encryption 
Governments worldwide renewed their calls to weaken encryption and mandate "backdoors" in technology for law enforcement. The U.S., U.K., and Australian governments notably asked Facebook not to pursue plans to improve encryption across its products, and the U.S. Attorney General was a vocal opponent of encryption. In response, CDT quickly organized an open letter, signed by 100+ organizations, asking that platforms continue increasing their end-to-end security to protect worldwide communications freedom.
Calling on Congress to Act on Net Neutrality 
While there was some positive action in the courts, net neutrality still remained in peril in the U.S. as a result of the FCC's overturn of the Open Internet rules. In the absence of FCC action, CDT joined more than 100 organizations in supporting the Save the Internet Act, which would cement net neutrality protections into law. Despite passing in the House, the Senate failed to consider the legislation.
Academic Fellows Come to Washington
 Through our non-resident Academic Fellows program, leading academics lend their expertise to CDT's advocacy and connect their research with relevant policymakers. For the first time in the program's existence, CDT's Academic Fellows came to Washington, D.C. for a day-long convening. Their perspectives from a diversity of disciplines informed in-person discussions with CDT staff, as well as external partners, where the group covered issues such as encryption, privacy, cryptocurrency, and competition.
A New Look for CDT's Website 
Increased accessibility, easier discovery of content, and enhanced security are core elements of the redesign of CDT's new website. Browse through our collections of resources on election security, privacy legislation, or "techsplanations," and scroll through the latest posts from CDT's many experts. Don't forget to listen and look for our latest "Tech Talks" podcast episodes!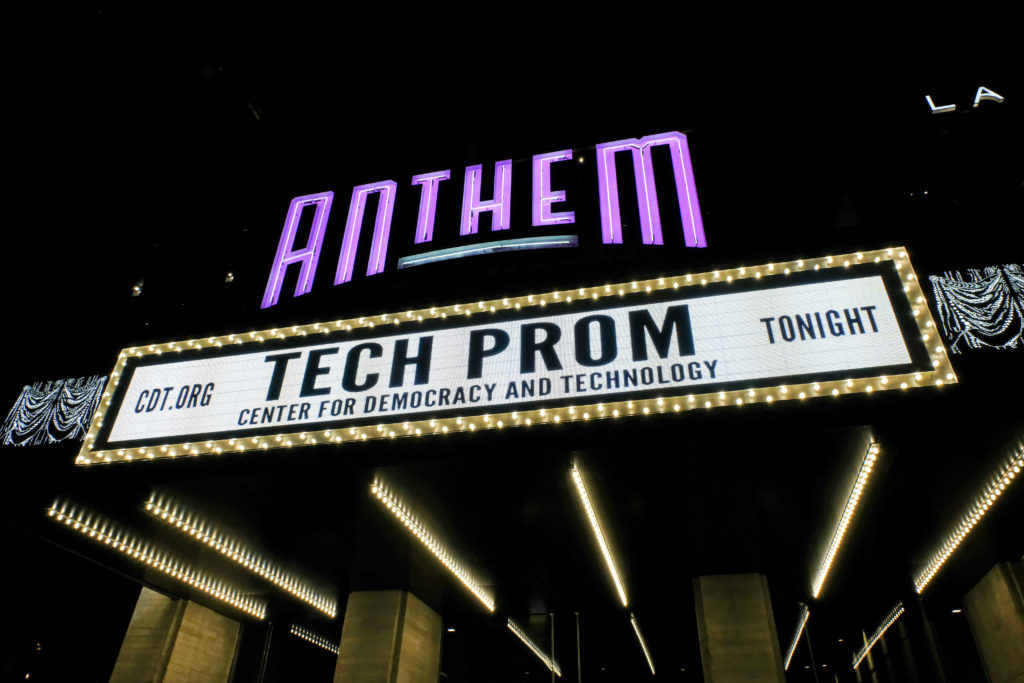 A Musical Tech Prom
Though CDT's annual dinner celebration continues to evolve, through the years it has become known as "Tech Prom." At this signature event, CDT brings leaders in technology policy together for an evening of conversation, cheer, and community.
In 2019, Tech Prom moved to an exciting and expansive new venue, The Anthem. CDT filled the space with policymakers, advocates, government representatives, & corporate partners – while adding a spirited 90's cover band to the mix.
The Future of Speech Online: Discussing the Technology of Free Speech
In 2019, CDT held our third annual Future of Speech Online, a day-long summit that explored the technology of online speech. At the event, we brought people from U.S. and international perspectives together to discuss censorship and circumvention, user empowerment, and automation in content moderation. We also identified ways that technology is regularly shaping how we share ideas and express ourselves online.
This year's event featured speakers from D.C.'s Arena Stage, NetBlocks, Clovyr, MIT, Pinterest, the Tor Project, and more. Several participants, including journalists, game makers, and advocates, presented their own diverse visions for the future of speech online.
The event was held in partnership with the Charles Koch Institute and the Freedom Forum Institute.
There are some important themes in the our team's work from 2018-2019. We explore what those features are, what we did, and what kind of impact they've had. Take a deep dive with us.
Moving Toward Federal Privacy Legislation in the U.S.
Following the passage of Europe's General Data Protection Regulation and the California Consumer Privacy Act, local, state, and federal lawmakers in the U.S. showed new interest in passing comprehensive privacy laws. CDT shaped these efforts, serving as a resource to lawmakers about how to construct protections that serve consumers while permitting important innovation.
Holding Governments and Companies Accountable for Restrictions on Online Speech
As more of daily life is conducted online, the scale of content posted on websites, apps, social media platforms, and other online services has grown enormously. Sites that host users' content are challenged to define what content their terms of service will allow and to enforce those terms, while also responding to reports of illegal content and activity on their sites.
Fighting Government Intrusions on Privacy and Free Speech at the Border
The dramatic increase in warrantless searches of digital devices at the U.S. border has captured the attention of the public and the press. U.S. Customs and Border Protection has violated not only the Fourth Amendment, but also its own procedures when conducting these searches. CDT is fighting these intrusions with the goal of protecting the First and Fourth Amendment rights of every American.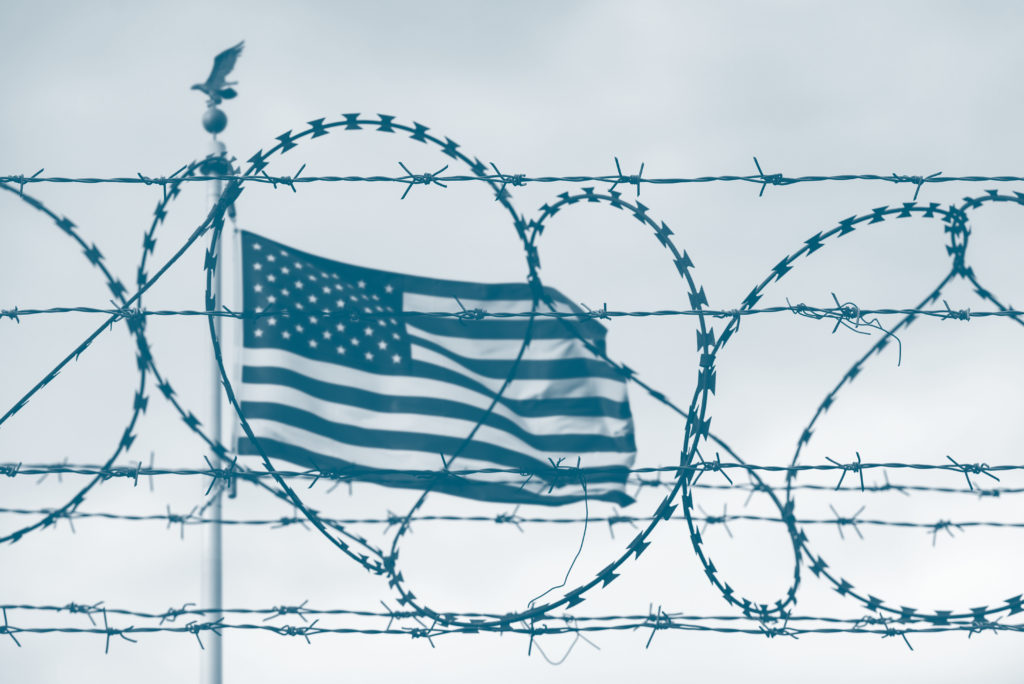 Financials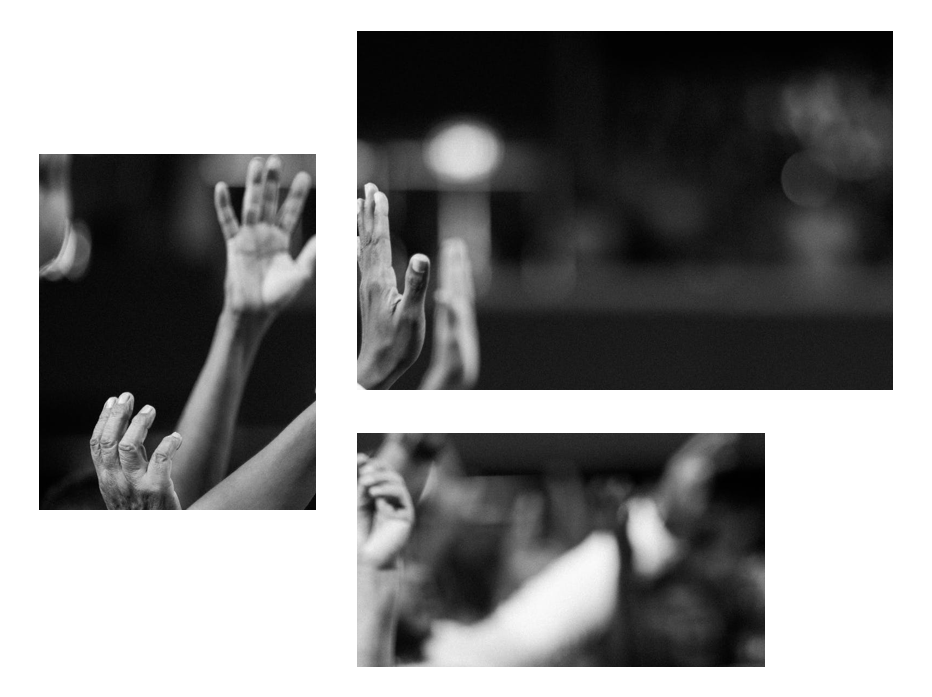 CDT is committed to sound financial stewardship and transparency. We have received clean audits each year from an independent auditing firm and have high ratings from nonprofit watchdogs Charity Navigator and GreatNonprofits. Our profuse thanks to our 2019 donors who make our work possible.
Board & Council
We are especially grateful to those who offer important insights on a regular basis and help to guide our work. We could not have such an outsized impact without your energy and efforts.
Previous Years
Reports from previous years.