2020 Annual Report: Advancing Equity in Technology Policy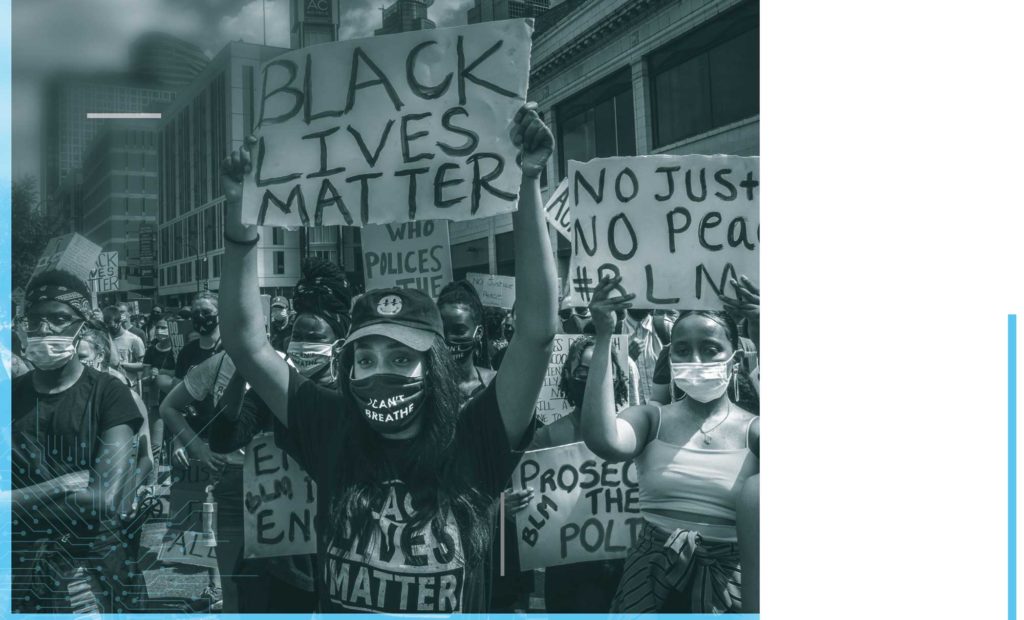 While technology allowed many of us to stay connected to our loved ones, workplaces, and resources in 2020, the divides inherent to our digital world have never been more stark.
As technology defines our society and institutions in ever-evolving ways, we are fighting harder than ever to advance policies, laws, and technical designs that empower people to use technology for good, while protecting against invasive, discriminatory, and exploitative uses.
This year, we joined dozens of other leading civil rights and technology advocacy groups in announcing the 2020 Civil Rights Principles for the Era of Big Data, a proactive guide for designing and using technology in ways that affirmatively promote justice and equity. The principles address current threats to civil rights, including surveillance-enabled profiling technologies used by both the public and private sectors, and decision-making tools that too often replicate and amplify patterns of discrimination in society.
Disabled people face unique challenges and new forms of discrimination enabled by increased use of technology. In a new project on disability rights and artificial intelligence, we have built on the legacy of the Americans with Disabilities Act to challenge algorithmic discrimination against disabled people in several key areas: benefits determinations, hiring and employment, and health and privacy. We identified how algorithmic systems, including those used by benefits programs, employers, test proctors, and state and local police, often result in unfair and inhumane outcomes for people with disabilities. Throughout the issues we work on, CDT continues to advocate for full inclusion, equality of opportunity, and access for people with disabilities.
The year especially highlighted racial inequities in the U.S. In response, we urged leaders in Congress to address the unconstitutional, dangerous, and historically inequitable use of largely unregulated surveillance technologies by police against demonstrators protesting the murder of George Floyd. We called for a halt to federal use of and investment in invasive and discriminatory facial recognition technology, which can result in improper arrest and detention, subject travelers to interrogation and gross invasion of privacy, and chill First Amendment rights — all with disproportionate effects on communities of color. CDT also pushed the internet standards community to formally eliminate discriminatory and non-inclusive terms from the vocabulary that underpins one of the world's most important and democratic technologies.
We spotlighted equity issues in the response to COVID-19, particularly around remote schooling and the digital divide. Students were newly dependent upon computers and the internet for access to an education, but ownership rates of smartphones and availability of school-issued or personal devices, as well as access to the internet, vary greatly. Content and services provided electronically are not always accessible to all students, providing further challenges for students with disabilities. We created resources for school districts that discussed key privacy protection practices and equity considerations for in-person, remote, and hybrid learning environments, as well as considerations for switching from one model to another.
Following the Presidential election, we called on the Biden Administration to prioritize evaluating the civil rights and equity impacts of technology policies and regulation of industry, as well as the use of technology by agencies across government.