2020 Virtual Tech Prom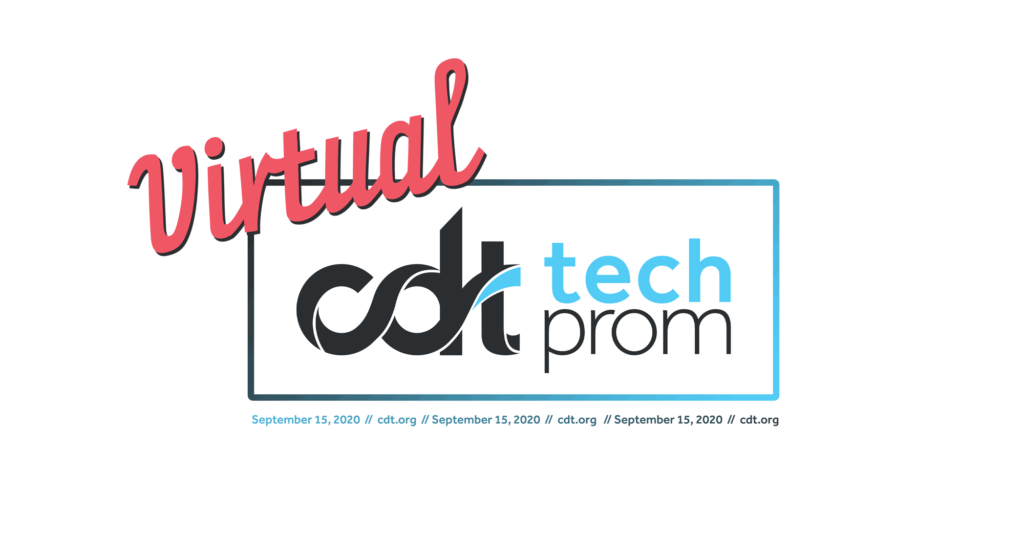 CDT is pleased to announce our 2020 Virtual Tech Prom on September 15, 2020 from 7:00pm – 8:30pm. Virtual Tech Prom is an invitation-only evening set in the style of our traditional annual dinner, but re-envisioned in a virtual format to bring together the tech policy community.
We'll convene a full audience at the beginning of the event, then divide into smaller breakout rooms for more intimate conversations on key issues in tech policy today. Each breakout room will be led by VIP speakers from government, civil society, academia, and industry, engaging the group in timely conversation. Guests are invited to select the discussion room of your choice during registration, creating meaningful opportunities to mix and mingle. CDT's Virtual Tech Prom is the "unwebinar," designed to deliver great conversation and community, even if we cannot deliver the handshakes and signature cocktails of years past.
CDT's annual Tech Prom raises nearly 20% of CDT's operating budget. We are deeply grateful to the ticket-holders and event sponsors who have stuck with us and supported this event, even after the COVID pandemic forced original Tech Prom's cancellation. Your support has allowed CDT to continue its work during this vital and active time for technology policy, including significant work responding to the COVID-19 pandemic. We are ever grateful to our supporters – and we're eager to see you again!
To encourage the networking of Tech Prom in a virtual format, space is extremely limited for the 2020 Virtual Tech Prom and the event is invitation-only.
Many thanks to all of our friends and the broader CDT family for your support during these unprecedented times. We look forward to raising a glass with you (virtually) on September 15, 2020!