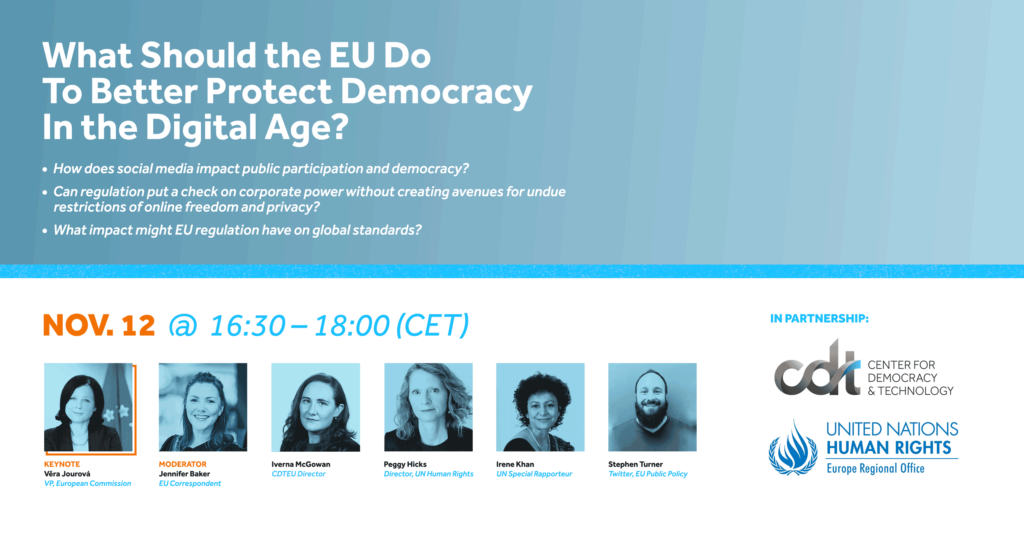 On November 12, the Centre for Democracy & Technology Europe Office organised a high-level discussion in partnership with the United Nations Human Rights, Regional Office for Europe, on 'What Should the EU Do to Better Protect Democracy in the Digital Age?' [recording available].
The event came in view of the soon-to-be published proposals for the European Democracy Action Plan (EDAP) and the Digital Services Act (DSA). The European Commission says that the EDAP will be aimed at improving the resilience of EU democracies and ensuring the integrity of the European elections, while the DSA will modernise the legal framework of digital services and address competitiveness in the market. This discussion brought together high-level speakers from across EU institutions, industry, the United Nations system, and civil society to talk about how these new rules could help better protect European democracy. The core of the discussion aimed to answer these questions:
How can regulation of online speech impact democracy?
What could the global impact of EU laws be?
Where do we draw the line between what is illegal and what is harmful but legal?
How do we address the impact of digital services on elections?
How do we ensure effective oversight and transparency?
European Commission's Vice President for Values and Transparency Věra Jourová Kicked Off the Event With a Keynote Speech
The Vice President Jourová began by reminding the audience that democracy is a process, and must be constantly nurtured and even fought for. Democratic forces need to show the people that they understand their problems and can offer solutions. She also expressed concern that social media rewards negative emotions such as anger and outrage, contributing to polarisation in our society. This weakness is exploited by those who seek to interfere with our democracies and sow disaccord. The Vice President noted the use and abuse of our personal data for troubling experiments and psychological profiling, while at the same time stressing that these challenges need to be addressed the European way, in full respect of the values as established in the European Treaties. Freedom of expression and information, media pluralism and freedom are irreducible core values of the EU. Censorship tendencies cannot be allowed, and no 'Ministry of Truth' of any kind will be created. Free speech must be preserved, she emphasized.
Further, she revealed more details about the upcoming proposals. The EDAP will look to safeguard the integrity of European elections by countering disinformation and supporting free and independent media. It will not be a hard legislation, but will announce legislation on strategic lawsuits against public participation (SLAPPs) and on mandatory transparency for political marketing, including rules for financing of political parties and political campaigning in European elections. She also said that the European Commission will push for greater transparency on how platforms moderate content and on their algorithmic processes. It will clarify the role of fact-checkers and the role of journalists. The focus will be on the behaviour of actors rather than on content. A definition of disinformation will be introduced to make clear which types of this activity will require action. She called for serious discussion on the consequences for foreign state actors that are engaging in malign interference. The Commission's long-term goal is to empower the people and increase media literacy. It is a question of actively engaged citizenships, Jourová underlined.
Conversely, the DSA will be horizontal legislation, focusing on responsibilities towards illegal content and activities including child abuse, terrorism, extremism which is prohibited by law, or hate speech. It will include binding rules and oversight mechanisms. The aim is to find a balance between doing nothing and imposing liability on everything which appears in the system.
On the use of competition law, the Vice President expressed concern at the impact that social media is having on traditional media which she worries is being 'killed'. The European Commission is considering competition law responses, but she stressed that it is challenging because EU competition law has a very high bar.
The Vice President also took questions from the floor from Eliška Pírková from Access Now and from Diego Naranjo from European Digital Rights (EDRi). In response, she further clarified the differences between the DSA and EDAP, and detailed where the European Commission's thinking is in relation to using competition law to respond to the challenges faced (see above).
High-Level Panel Discussion: Civil Society, the United Nations, and Industry
Iverna McGowan, CDT's Europe Director, reiterated that we are facing a number of challenges in the digital space including harassment, discrimination towards minorities, and the spread of disinformation. These challenges demand responses, but need to be carefully crafted to avoid a situation whereby the main focus is on surveillance and restricting our civic space. We need to have a strong and stable legal framework underpinning content moderation, which is rooted in the rule of law and which provides access to remedy, she stressed. The good samaritan principle for user-generated content would be a wise choice to keep, Iverna stated.
Irene Khan, UN Special Rapporteur on the promotion and protection of the right to freedom of opinion and expression, highlighted that governments should refrain from imposing general monitoring obligations and shifting the responsibility of assessing content illegality to companies. Determining the legality of speech is the responsibility solely of judicial actors. She also stressed the need for increased transparency. Transparency must be enhanced, not only for companies but also for governments, she stated.
Peggy Hicks, Director of the Thematic Engagement, Special Procedures and Right to Development Division at the UN Human Rights (OHCHR), underlined that some proposals like the Regulation on preventing the dissemination of terrorist content online do indeed seem to undermine necessary judicial controls and permit referrals to companies of content that does not violate any laws. Current metrics mostly focus on encouraging takedowns rather than enabling the public to question those decisions. She called for minimum standards for the process of content moderation and curation rather than the content itself. Processes must be made easier to understand, fairer, non-discriminatory, and challengeable. Regulatory bodies which we put in place need to be independent and not subject to political capture, she said.
Stephen Turner, Twitter's Director of EU Public Policy expressed support for meaningful legislation that underpins a free and open internet, including fair competition. He also highlighted the importance of non-legislative solutions, involving companies' openness and transparency, and strengthening peoples' digital resilience and literacy. He said that Twitter is working towards more control for users over algorithms and timeline ranking. The company is also working to provide more context to the information that people see online, to help them make informed decisions. He also said that the voice of civil society needs to be strengthened and given more prominence in these discussions.
Watch the full discussion on CDT's Youtube channel.
Learn about CDT's positions on the EDAP and the DSA in its responses to the European Commission's public consultations.