What Should the EU Do to Better Protect Democracy in the Digital Age?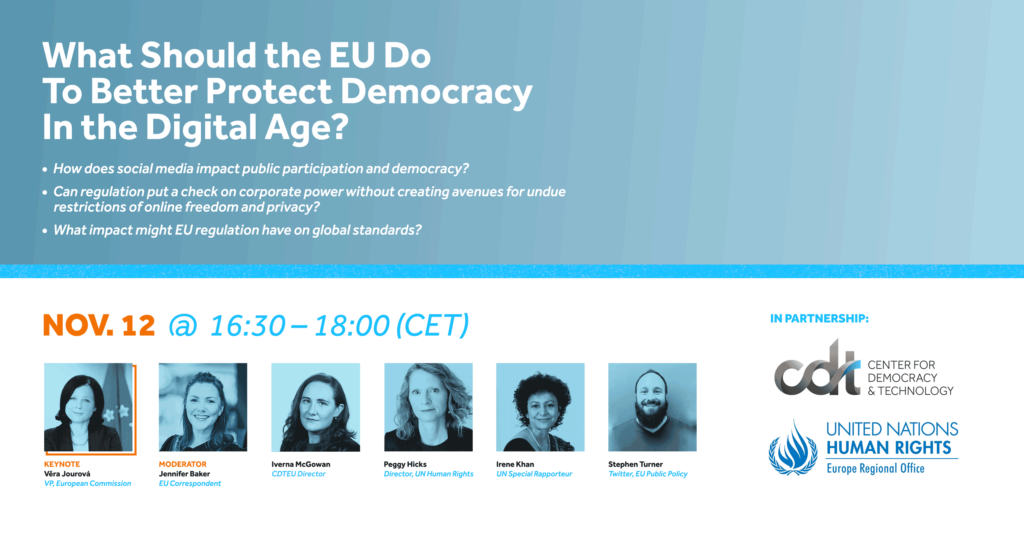 Watch the full event via our YouTube livestream recording, right here: https://youtu.be/_4JGOr3KMNc.
#DigitalAgeEU + @CenDemTech + @CDTEU
***
The European Union's (EU) European Democracy Action Plan (EDAP) and its Digital Services Act (DSA) will be unveiled later this year, as announced in the EU Digital Strategy adopted in February 2020. The Democracy Action Plan is aimed at improving the resilience of EU democracies and on how to ensure the integrity of the European elections. This discussion brings together high-level speakers from across EU Institutions, industry, the United Nations system and civil society to talk about how these new rules could help better protect European democracy.
Date: 12 November, 2020
Time: 16:30 – 18:00 CET (Brussels time)  / 10:30 AM – 12 PM ET
Speakers
Věra Jourová, Vice President of the European Commission and Commissioner for Values and Transparency
Irene Khan, UN Special Rapporteur on the promotion and protection of the right to freedom of opinion and expression
Stephen Turner, Director of EU Public Policy, Twitter
Peggy Hicks, Director, Thematic Engagement, Special Procedures & Right to Development Division, UN Human Rights
Iverna McGowan, Europe Director, the Centre for Democracy and Technology
Moderator: Jennifer Baker
Login information will be shared with registrants closer to the day of the event.
Questions: To submit questions for CDT's experts in advance, please email us at [email protected]. Questions will be accepted during the event at [email protected]g, via Twitter at #cdtquestions and #DigitalAgeEU as well as @CenDemTech / @CDTEU, or via the conference chat feature.
Accessibility: If you have access needs or questions, please contact Timothy Hoagland (he/him), CDT Director of Communications, in advance of the event via email at [email protected].
The Centre for Democracy & Technology is organizing this event in partnership with the United Nations Human Rights, Europe Regional Office.