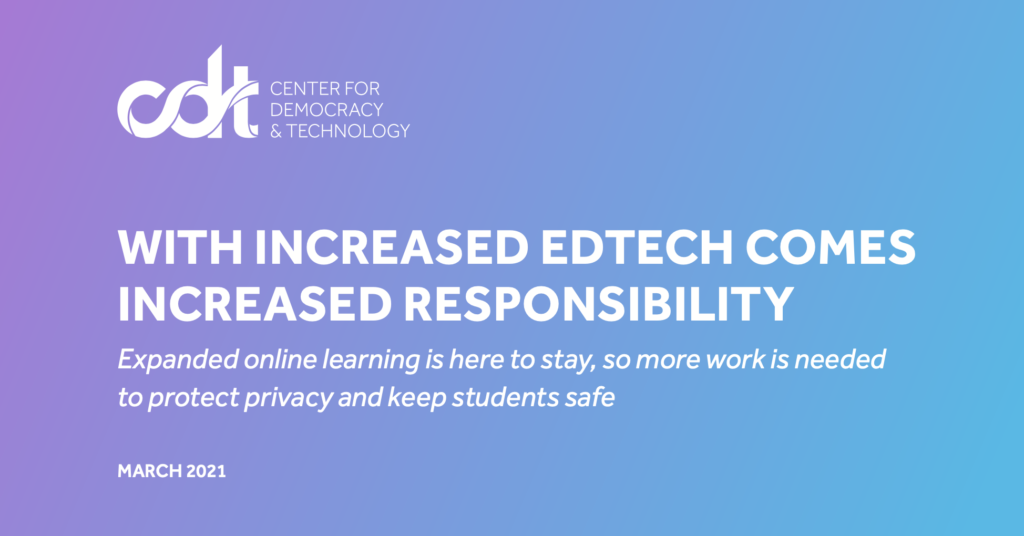 A year has passed since our education system was disrupted, with schools being forced to transition overnight to remote learning due to the global pandemic. Since then, students and their families have seen the best—and the worst—that education technology and data have to offer. Technology and data have enabled important educational services like instruction delivery in students' homes, relationships with caring adults in their lives, and mental health services during a time of crisis. On the other hand, too many students have not been connected with their schools due to inequitable access, and some have even been harmed by "Zoombombings" that inflicted traumatic experiences and cybersecurity attacks that shut down their schools.
Last year the Center for Democracy and Technology (CDT) commissioned research on the views of those who have the most at stake: parents, teachers, and students. Our latest report updates those findings among parents and teachers with new polling data that shows changes from last spring and summer to February 2021. Our research shows that the need and demand for data and technology continues to grow, but attention to privacy, security, and responsible data use is not keeping pace. While schools are making progress, and support for online learning among teachers and parents remains strong, important gaps in student privacy remain. To address these deficiencies, education leaders and practitioners should take the following actions:
Continue to establish and update privacy-forward policies
Better equip teachers to use technology responsibly
Address the latest privacy and security risks that pose the greatest threats to students
Engage parents in privacy protection
Embed privacy protection in efforts to close the homework gap
Read the research slides here.