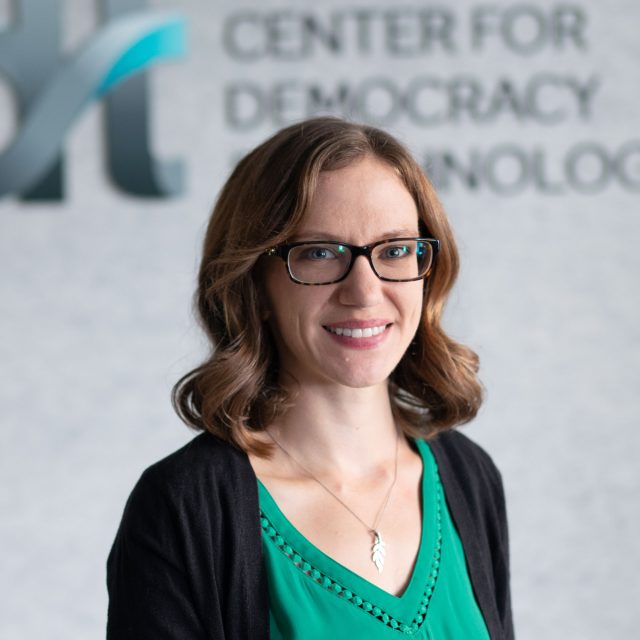 Director, Free Expression Project
Emma Llansó is the Director of CDT's Free Expression Project, which works to promote law and policy that support Internet users' free expression rights in the United States and around the world. The Project's work spans many subjects, including human trafficking, privacy and online reputation issues, counter-terrorism and "radicalizing" content, disinformation, and online harassment. Emma leads CDT's legislative advocacy and amicus activity around freedom of expression in the U.S. and the E.U.; this work focuses on protecting fundamental rights to freedom of expression and preserving strong intermediary liability protections. She also works to develop content policy best practices with Internet content platforms and advocates for user-empowerment tools and other alternatives to government regulation of online speech. This includes advocacy for increased transparency from tech companies and governments about co-regulatory and voluntary collaborative initiatives around content moderation. It also includes advocacy for improved transparency, appeals, and remedy procedures from ICT companies as they enforce their own content policies and Terms of Service.
Emma serves on the Board of the Global Network Initiative, a multistakeholder organization that works to advance individuals' privacy and free expression rights in the ICT sector around the world. She is also a member of the multistakeholder Freedom Online Coalition Advisory Network, which provides advice to FOC member governments aimed at advancing human rights online.
Emma joined CDT in 2009 as the Bruce J. Ennis First Amendment Fellow; her fellowship project focused on legal and policy advocacy in support of minors' First Amendment rights in the US. She earned a B.A. in anthropology from the University of Delaware and a J.D. from Yale Law School. Emma is a member of the New York State Bar.