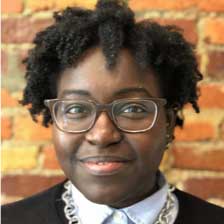 DeVan Hankerson Madrigal is CDT's Research Manager, and an advocate for improving technology access to expand individual rights and ensuring that more people share in the benefits of technological progress. At CDT, DeVan joins a research team focused on advancing human rights and civil liberties online.
DeVan comes to CDT from the Institute for Technology Law & Policy at Georgetown Law, where she developed research on ensuring digital access for students with disabilities during COVID-19, as well as on the impact of digital exclusion on artificial intelligence R&D. She also worked alongside the Tech Institute Distinguished Fellows to produce a technology and broadband policy podcast called "Tech on the Rocks." While at the Institute for Technology Law & Policy, DeVan also served as director of external communications.
DeVan has spent her career working on communications policy and regulatory matters which expand consumer-side benefits derived from technology-based progress and innovation. Prior to joining the Institute, she developed experience both in third-party coalition management and policy advocacy as Senior Director of Public Policy and Government Relations at the Goodfriend Group, a government relations, public policy, and digital advocacy firm. She began her career in D.C. in the public interest sector with the advocacy organization Multicultural Media, Telecom, and Internet Council (MMTC). While there, she led research on technology access issues with a specific focus on the impact of disruptive technologies, and worked on strategic advocacy championing the broad deployment of critical communications infrastructure.
Prior to that, DeVan worked abroad on cross-border trade issues at the Dubai Chamber of Commerce (UAE) and with an Amman-based NGO (Jordan) on economic inclusion, and gender equality issues.
DeVan holds an M.A. in International Trade Policy (M.P.P.) from the Middlebury Institute of International Studies, and a B.A. in Psychology and Linguistics from Vassar College. You can find her on Twitter and LinkedIn.