The Patriot Act Turns 20: Taking Stock and Rethinking Surveillance Powers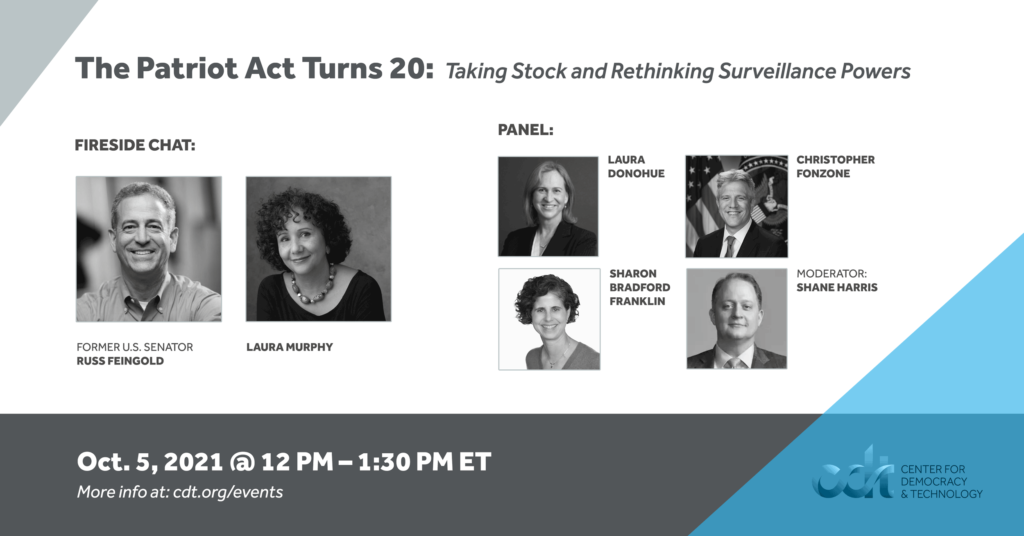 October 5, 2021
Time: 12 PM – 1:30 PM ET
Twenty years after the passage of the Patriot Act, it's time to dig deep and ask some fundamental questions: What were the key civil liberties concerns back in the fall of 2001 and how have government surveillance activities changed over the last two decades? With the benefit of 20 years of experience, what authorities does the government need to keep the country safe while preserving civil liberties and civil rights in the U.S. and abroad? Should there be a comprehensive reexamination of government surveillance authorities today? What changes should be made?
On October 5th, CDT is hosting a discussion to tackle these questions and others that will begin with a fireside chat between former U.S. Senator Russ Feingold, the lone "no" vote in the Senate against the Patriot Act, and Laura Murphy, who managed the ACLU's Legislative Office in Washington, D.C. during the bill's passage.
Their talk will be followed by a panel discussion and public Q&A session with:
Laura Donohue, Director of Georgetown University's Center on National Security
Chris Fonzone, General Counsel, Office of the Director of National Intelligence (ODNI)
Sharon Bradford Franklin, Co-Director of the CDT Security & Surveillance Project, former Executive Director of the Privacy and Civil Liberties Oversight Board (PCLOB)
Moderated by Shane Harris, Washington Post intelligence and national security reporter and author of The Watchers: The Rise of America's Surveillance State and @War: The Rise of the Military-Internet Complex.
Login info will be sent to registered attendees in advance of the event.
Questions? Concerns? Send us a note at [email protected].
Accessibility: If you have access needs or questions, please contact Timothy Hoagland (he/him), CDT Deputy Director of Communications, in advance of the event via email at [email protected].