Gender, Politics and Disinformation on Social Media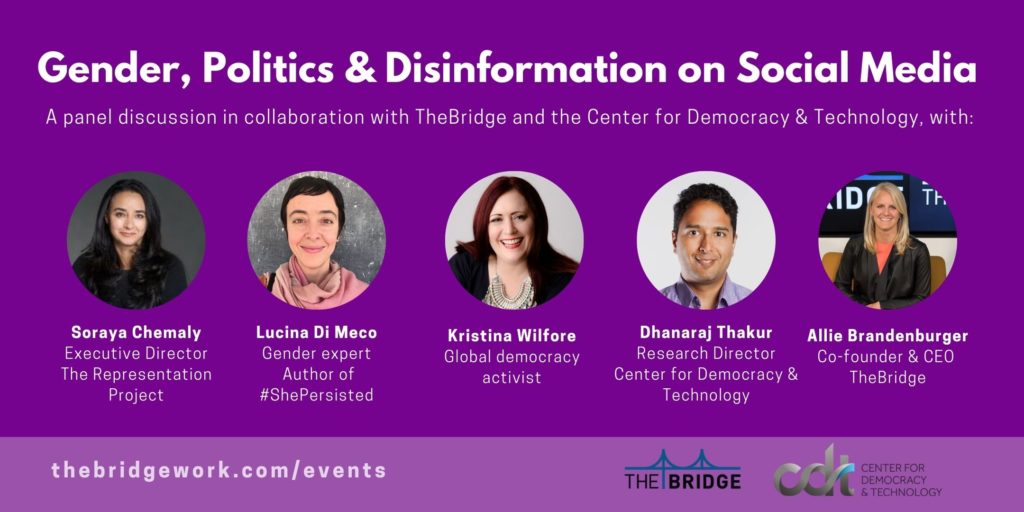 Join us for a discussion about gender, politics and disinformation on social media. The panel discussion will feature Soraya Chemaly, Executive Director of The Representation Project, Lucina Di Meco, a gender expert and author of #ShePersisted, and Kristina Wilfore, a global democracy activist, in collaboration with TheBridge and the Center for Democracy & Technology.
Moderated by Dhanaraj Thakur, Research Director at the Center for Democracy and Technology, and remarks from Allie Brandenburger, Co-founder & CEO of TheBridge.
RSVP to receive event link. In your confirmation email you will see a Zoom link, Meeting ID and Passcode for the discussion.
Date: Wednesday, September 16
Time: 9:30am PT/12:30pm ET
Participants and Partners:
Lucina Di Meco is a gender expert and author of #ShePersisted. A senior expert, researcher and author on women's leadership and gender equality, Lucina has worked in various capacities for a wide range of international nonprofits, think tanks and UN agencies. Lucina's #ShePersisted research on women in politics and social media has been featured on the Washington Post, Time Magazine, Politico and Voice of America, among others. She currently serves as Senior Director for Girls' Education & Gender Equality at Room to Read. Lucina is also the co-founder of The Gender Breakfast, a network of gender equality experts based in the San Francisco Bay Area and serves on the Advisory Board of FundHer, an organization dedicated to electing progressive women to State legislatures.
Kristina Wilfore is a global democracy activist. Kristina has worked on the ground with civil society advocates, political parties and women leaders in over 25 countries, in hotspots such as Ukraine, Turkey, Serbia, Syria, Kosovo, and Kenya to help ensure credible elections and increase the voice and participation of historically marginalized communities. She has supported hundreds of women in their campaigns for higher office and has worked hand-in-hand to break systemic barriers to political participation. She is a founding board member of Global Gain and host of Fatima's Hand, a podcast featuring women change agents. Kristina is on faculty with The George Washington University's Elliott School of International Affairs teaching the Global Capstone in gender policy.
Soraya Chemaly is the Executive Director of The Representation Project. An award-winning writer, activist, and media critic. Ms. Chemaly speaks frequently on topics related to gender norms, inclusivity, social justice, free speech, sexualized violence, and technology. Ms Chemaly is a contributor to several books about these issues, most recently, Free Speech in the Digital Age and Believe Me: How Trusting Women Can Change The World. Her 2018 book Rage Becomes Her: The Power of Women's Anger, was named a Best Book of 2018 by the Washington Post, Fast Company, and Psychology Today and has been translated into several languages. As an activist, Ms. Chemaly has spear-headed multiple successful campaigns challenging corporations to address online harassment and abuse, restrictive content moderation and censorship, and institutional biases that affect free speech. The former director and co-founder of the Women's Media Center Speech Project, she has long been committed to expanding women's civic and political participation. .
Dhanaraj Thakur is Research Director at the Center for Democracy & Technology, where he leads research that advances human rights and civil liberties online. His published research has examined issues such as online gender-based violence, the gender digital divide, and gender-based budgeting. More recently, at CDT he is developing an agenda that looks at the impacts of disinformation in terms of race and gender.
Allie Brandenburger is the co-founder and CEO of TheBridge, a community of leaders shaping the future of tech, innovation, policy and politics. TheBridge connects innovators and regulators and provides a unique and neutral forum for productive, nonpartisan dialogue increasing understanding and collaboration. Allie has worked with some of the most innovative tech companies including SpaceX and Google. Allie helped start and advised the RH-ISAC. Allie has worked on national and statewide election campaigns, most recently serving as deputy communications director on a presidential campaign in the 2016. Allie understands Capitol Hill having served as communications director for a US Congressman. Allie also has extensive issue advocacy experience, having advised coalitions and worked on cyber security, data privacy and e-commerce issues at trade associations and national political committees.