A Lie Can Travel: Election Disinformation in the United States, Brazil, and France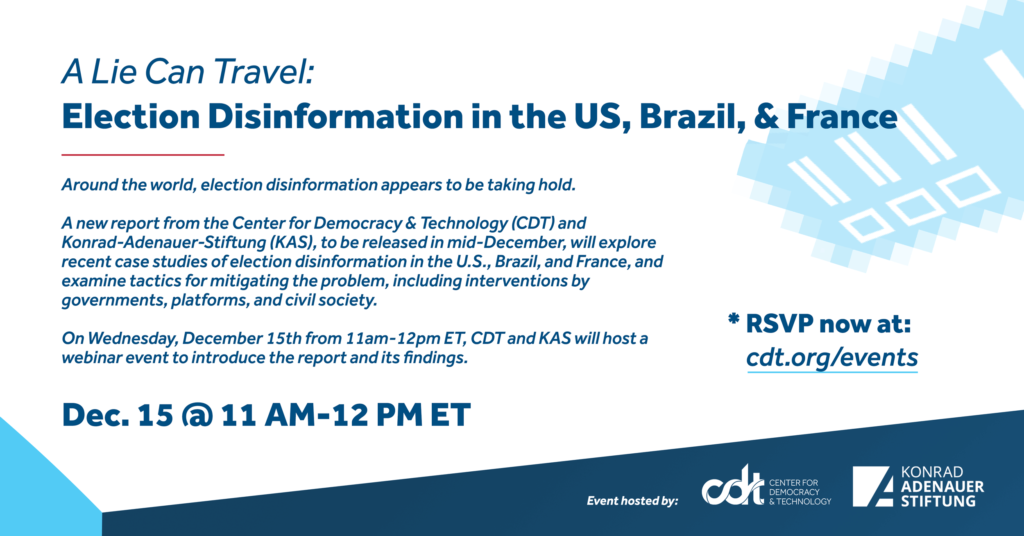 "A lie can travel halfway around the world while the truth is still putting on its shoes."
— Jonathan Swift (commonly misattributed to Mark Twain)
Around the world, election disinformation appears to be taking hold. In 2016, Russian hackers released emails obtained from leading U.S. Democratic officials, rocking the U.S. presidential election. A similar hack-and-leak operation in 2017 released thousands of documents on French presidential candidate Emmanuel Macron, just hours before the country's pre-election media blackout began. In Brazil, during the 2018 presidential election, candidate Jair Bolsonaro's son circulated a misleading video falsely implying that voting machines were converting votes from Bolsonaro to his rival. The day after the 2020 U.S. presidential election, protesters — driven by false claims about felt-tip markers ("Sharpies") used to mark ballots — descended on an election office in Arizona waving markers and guns.
A newly released report from the Center for Democracy & Technology (CDT) – A Lie Can Travel: Election Disinformation in the United States, Brazil, and France – published by Konrad-Adenauer-Stiftung (KAS), explores recent case studies of election disinformation in the U.S., Brazil, and France. It also examines tactics for mitigating the problem, including interventions by governments, platforms, and civil society.
On December 15, from 11 am-12 pm ET, CDT and KAS will host a webinar event to introduce the report and its findings. Three of the report's authors—one from each country—and a leading researcher on online disinformation will participate in a panel discussion, followed by Q&A.
Portuguese interpretation will be available.
Speakers:
Alicia Wanless, Director, Partnership for Countering Influence Operations, Carnegie Endowment for International Peace (moderator)
William T. Adler, Senior Technologist in Elections & Democracy, Center for Democracy & Technology
Paulo José Lara, Head of Digital Rights, ARTICLE19 Brazil and South America
Jean-Baptiste Jeangène Vilmer, Director, Institute for Strategic Research (IRSEM), French Ministry of the Armed Forces
Kate Starbird, Associate Professor, Department of Human Centered Design & Engineering, University of Washington
Zoom information will be provided to registrants via email.
For questions, or to request an accommodation relating to a disability, please contact [email protected].