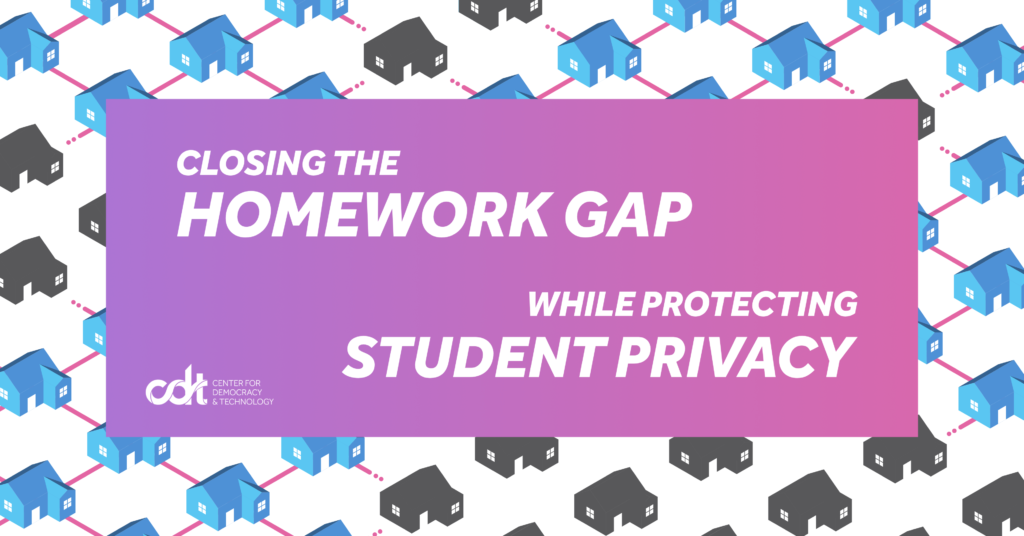 Executive Summary
As institutions at all levels of government and across our communities work to connect students to remote learning, those efforts should not come at the expense of student privacy. Closing the homework gap — the 15 to 16 million American students who do not have broadband access at home — will likely require schools to utilize data and technology in new and unexpected ways, presenting new challenges to both equity and student privacy. When closing the homework gap, those challenges are likely to arise in five areas:
Using Data to Assess Needs and Launch Connectivity and Device Programs. Schools may collect data from or about students to better understand whether they lack broadband, and if so, why. That data collection, however, may pose a risk to both community trust and student privacy if data is used in unexpected ways.
Sharing Student Data with Third Parties Such as Broadband and Device Providers. In getting students connected, schools may have to share that data with broadband and device providers or other third parties for several reasons, including to provide connectivity, devices, or services, or to more efficiently administer or implement a broadband or device program. That sharing may pose risks to student privacy and equity if schools are unable to ensure its partners use the data responsibly.
Monitoring Student Activity Online. With the advent of new technologies and the expansion of remote learning, schools have increasingly deployed technically sophisticated means of monitoring students' online activity, which may permit teachers to see what students have open on their computer screens, open websites on a student's laptop, switch tabs, block sites, or view browsing histories.
Ongoing Security and Device Management Requirements. Distributing devices to students comes with an added responsibility to minimize the potential for harm that can come with those devices, as they can be a pathway for attacks on student privacy.
Lack of Digital Literacy and Security Knowledge. Students and families, especially those who are new to the digital space, may lack the digital skills and experience necessary to navigate privacy and security challenges.
The resulting challenges can include a lack of meaningful consent, secondary data uses, overcollection and indefinite retention of data, misuses of data, a loss of public trust, increased inequities, and legal risks. These serious risks, however, can be combated with privacy- and equity-forward practices. These practices will help center the student and community in the use of data and technology to close the homework gap, namely by:
Developing Robust Data Governance. Schools should establish robust processes and structures for overseeing the overall management, availability, usability, integrity, quality, and security of data and technology.
Engaging the Community. Schools should engage stakeholders such as students and families, teachers, and administrators — and even broadband providers and state education agencies — about the use of data throughout the process of closing the homework gap.
Complying with Legal Rules. Schools opting to collect and share data face some legal risk, as federal and state privacy laws can be confusing and may not necessarily permit data sharing.
Promoting Equity. The use of data and technology has the potential to promote equity and limit biases, but only if the collection, analysis, and use of data is designed intentionally to meet these goals. Schools should focus on ensuring that data and technology used to close the homework gap do not reinforce the biases and inequities present in society, particularly in algorithmic applications.
Building Stakeholder Capacity and Digital Literacy. Because data and technology are rapidly evolving, it is a challenge for organizations, especially those that are under-resourced, to have the capacity to enact and follow ethical data practices and policies. Organizations can build capacity by participating in trainings, creating guidance resources, and having dedicated staff to support community members.
Together, these practices can make it possible to close the homework gap while protecting student privacy.