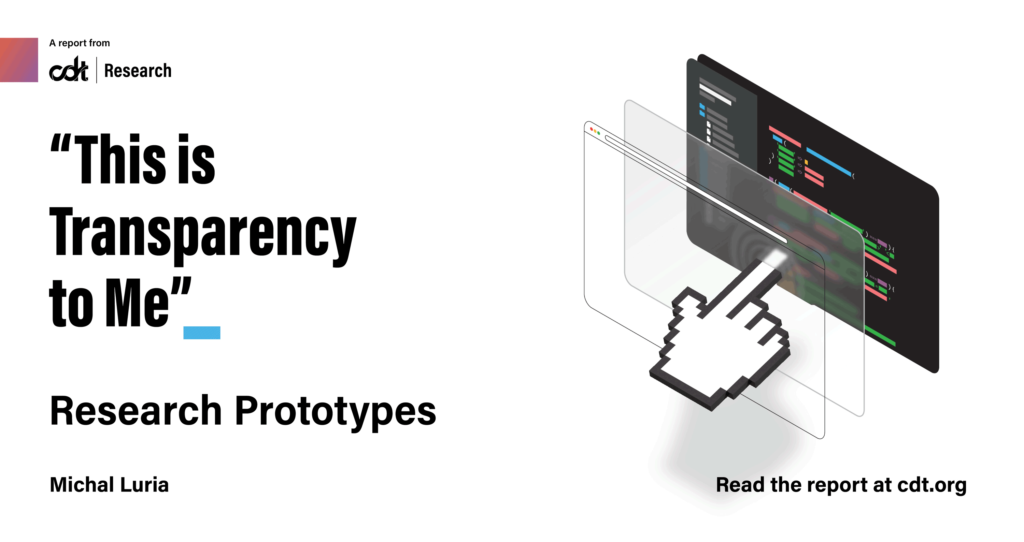 In a recent report by CDT, This is Transparency to Me: User Insights into Recommendation Algorithm Reporting, we looked into opportunities for social media platforms to share reports that would include information about their recommendation algorithms and how they may impact people who interact with them.
The report describes two research studies that we conducted: (1) a co-design study that included interviews and design activities and resulted in an understanding of aspects related to recommendation algorithms that people want to know more about; (2) an evaluation study in which we presented to participants a range of possible prototypes of future social media algorithmic transparency reports and asked them to reflect on these hypothetical interfaces.
In this repository we share the final prototypes that we created and presented to participants in Study 2—a total of four different "interface-like" images, that simulate what a transparency report on a hypothetical social media platform may present. In two of the prototypes (Prototype 2 and Prototype 3) we include two images that represent different instances of the same screen (e.g., after a user hypothetically clicks on a tab that the interface includes).
The prototypes were designed through an iterative design process, and based on our insights from Study 1. They were not necessarily intended to be a template for what recommendation algorithm transparency reports should include. Rather, they were a tool of inquiry into aspects that people might or might not be interested in in such a report. Thus, to fully understand the insights based on participants' reflections of these prototypes and research, we recommend reading the full report findings.
This repository includes a total of six image files that present the following prototypes: