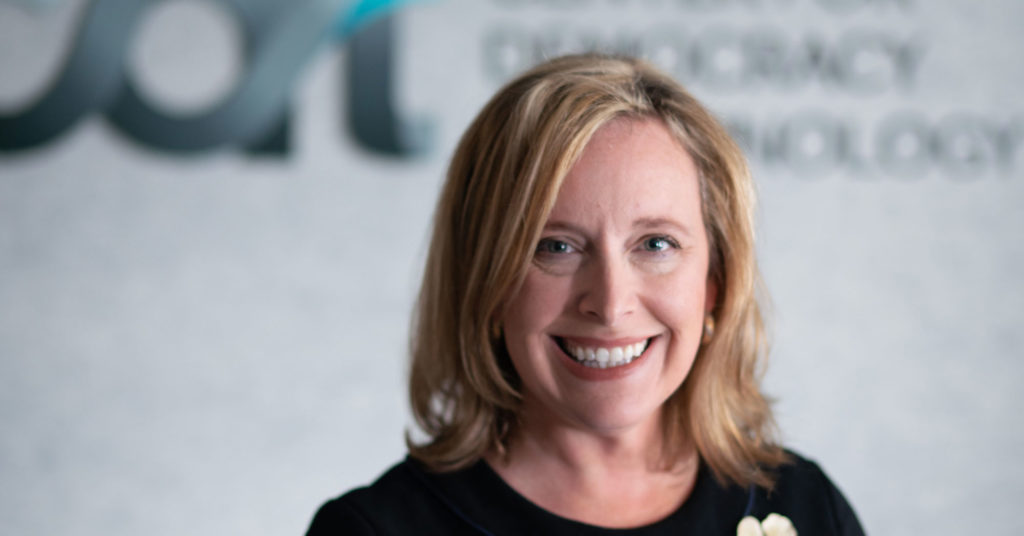 We're chatting with Lisa A. Hayes, Interim Co-CEO and Vice President, Strategy & General Counsel, and figured our readers might be interested to hear about her earliest work delving into digital privacy issues, as well as her favorite part of CDT's policy work.
How long have you been working in digital rights? Intermittently throughout my career. I got into the space when I was a young lawyer in Seattle, and represented the local public library when their computers were seized by the FBI right after the Patriot Act became law. I also represented teenagers who used early cell phone cameras to snap good-natured photos of their friends drinking or misbehaving, only to find those photos later used in court to convict their friends of crimes. Since those early days, at least part of my work has always been focused on protecting privacy in the digital age.
What is your favorite policy area here at CDT? I love all of our policy areas, but am especially excited when our teams are breaking new ground. How should we protect health data that isn't regulated by HIPAA? Can we create better technical standards for voting machines? When should the government be allowed to track your movements without a warrant? How do we ensure deep fakes don't destroy democracy? How do we better prepare people for the impact of AI on daily life? How can we make sure that education data helps students achieve in an ethical way? Our team is working on solutions to important emerging issues, and it is so much fun to learn from our experts.
What is the best book you've read recently? I'm loving the Kate Shugak series by Dana Stabenow. Kate lives with her half-wolf dog, Mutt, in the remote Alaskan wilderness. She's smart, possesses an incredible work ethic, and does her best to solve mysteries, bridge different communities, and make sure that justice is done in the end. And she does it all while living in a small cabin without electricity, let alone a cell phone or the internet. After looking at my overflowing inbox some days, Kate's off-the-grid lifestyle sounds pretty great. Except, of course, the part about having an outhouse during an Alaskan winter.
Dogs or cats? This is sort of an unfair question for a parent. If I picked one over the other, I am confident that our family pets would find ways to demonstrate their displeasure. Suffice it to say that I like most mammals, though I will note that if a dog is small enough to be beaten up by my cat, I don't consider it to be a real dog. (Let the trolling begin!)