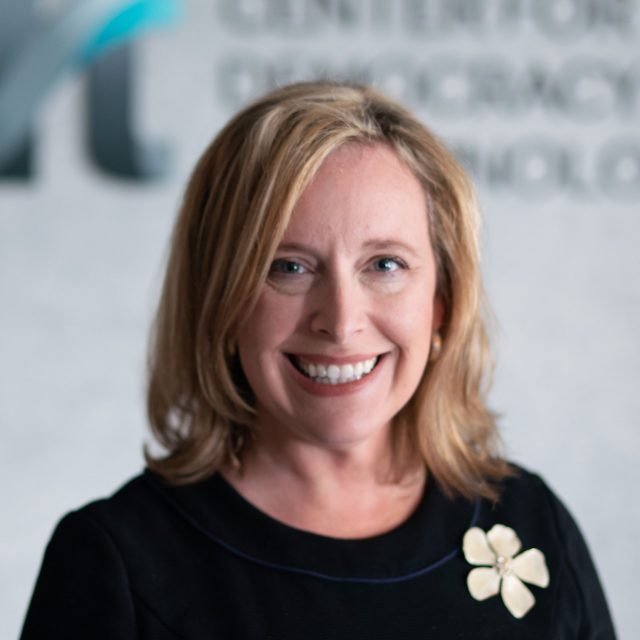 Vice President, Strategy & General Counsel
Lisa A, Hayes was the Vice President, Strategy, and General Counsel for the Center for Democracy and Technology ("CDT"), a nonprofit organization promoting global online civil liberties and human rights. At CDT, Lisa worked to ensure the organization is strategically positioned, while overseeing the organization's litigation efforts, open internet project, and project on inequality and economic opportunity.
Lisa has two decades of legal experience, and is a vocal advocate for using the internet and emerging technologies to advance democracy and improve lives. Since 2007, she has been a part of the leadership team at national nonprofits where her legal focus has centered on constitutional law and policy. Before joining the nonprofit sector, Lisa spent a decade in private practice on the West Coast, where she was a partner in a Seattle law firm and general counsel to a start-up supporting the 1990s internet boom. While in private practice, Lisa served as lead counsel in more than a dozen trials and appeals, and successfully argued hundreds of motions. Her clients included a library system objecting the government's seizure of computers to identify patron reading records, major technology companies involved in contractual disputes, and a variety of matters involving the intersection of criminal law and technology.
Lisa has a passion for fostering opportunity and finding ways to use technology to improve the lives of all people. She currently sits on the Board of Directors for Lotus Circle, a Global Network for Women. When in private practice, Lisa was appointed by the Chief Justice of the Washington State Supreme Court to the Gender & Justice Commission, and served as Chair of the Washington State Bar Association Professionalism Committee. She also spent significant time coordinating legal clinics to help the homeless, and volunteering for organizations focused on poverty issues in the US and Africa. She has been an active volunteer in the voting rights arena since 2004, and authored an edition of the election protection handbook for Washington State.
Lisa completed her J.D. at the University of Washington School of Law, where she was president of the Moot Court Honor Board, and an editor of the Pacific Rim Law & Policy Review. She received her B.A. in political science and communications from Boston University. She lives in Washington, DC with her husband and daughter.