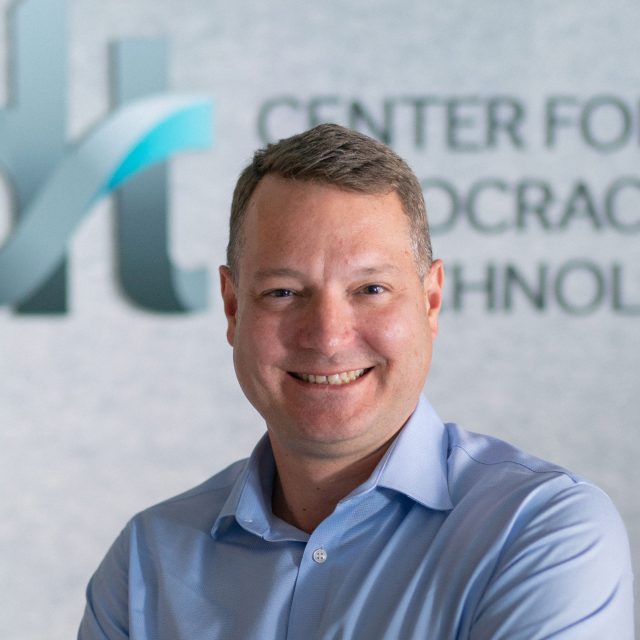 Chris Calabrese was the Executive Vice President at the Center for Democracy & Technology (CDT) where he oversaw CDT's policy portfolio.  Chris has long been an advocate for privacy protections, Internet openness, limits on government surveillance, and fostering the responsible use of new technologies.
Chris has testified before Congress and appeared in many media outlets, including CBS Evening News, Fox News and National Public Radio, discussing technology and privacy issues. He has also been quoted in a variety of publications including the New York Times, Washington Postand Associated Press. He was named one of Washington's Top Lobbyists by The Hill newspaper in both 2012 and 2013. Chris also sits on the Consumer Advisory Committee of the Federal Communications Commission (FCC).
Before joining CDT, Chris served as legislative counsel at the American Civil Liberties Union's (ACLU) Washington Legislative Office. In that role, he led the office's advocacy efforts related to privacy, developing proactive strategies on pending federal legislation and executive branch actions concerning privacy, new technology and identification systems. His key areas of focus included limiting location tracking by police, safeguarding electronic communications and individual users' Internet surfing habits, and regulating new surveillance technologies such as unmanned drones.
Before becoming a lobbyist, Chris also helped lead several national ACLU campaigns including opposing state implementation of the Real ID Act and ending law enforcement's use of commercial databases and data-mining as part of the Multi-State Anti-Terrorism Information Exchange (MATRIX) program.
Prior to joining the ACLU, Chris served as the legal counsel to the Massachusetts Senate Majority Leader, Linda J. Melconian.  In that capacity, he helped draft legislation to ensure that privacy and anti-discrimination laws extended to genetic information. Chris is a graduate of Harvard University and holds a J.D. from the Georgetown University Law Center.  He lives in the Washington, D.C. area with his wife and three children.