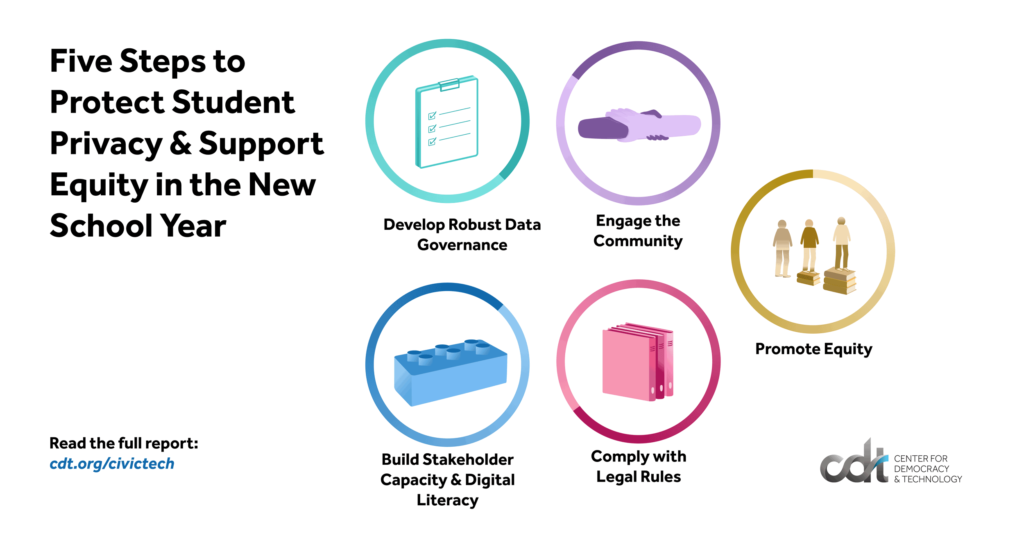 As schools return to in-person learning, education leaders will be developing processes for managing technology adopted during the pandemic and for handling new data to transition away from remote learning and reopen schools in-person. Leaders should consider five steps in implementing those processes to protect privacy and promote equity in the new school year:
Develop robust data governance
Engage the community
Promote equity
Build stakeholder capacity and digital literacy
Comply with legal rules
The return to in-person learning will likely not look and feel the same as prior to the pandemic. COVID-19 continues to present a risk to students' and families' health, schools are responding to renewed calls for equitable learning, and widespread distribution of devices, educational technology, and broadband connections have created new opportunities – and risks – for students, families, and educators. To help schools, families, and students navigate all of this, CDT's Equity in Civic Technology Project is releasing an infographic and two checklists on promoting equity and protecting privacy while transitioning away from remote learning to connected in-person learning.
Find the infographic on what steps to include in the new school year here.
Find the checklist on "Transitioning to Connected In-Person Learning" here.
Find the checklist on "Transitioning Away from Remote Learning" here.