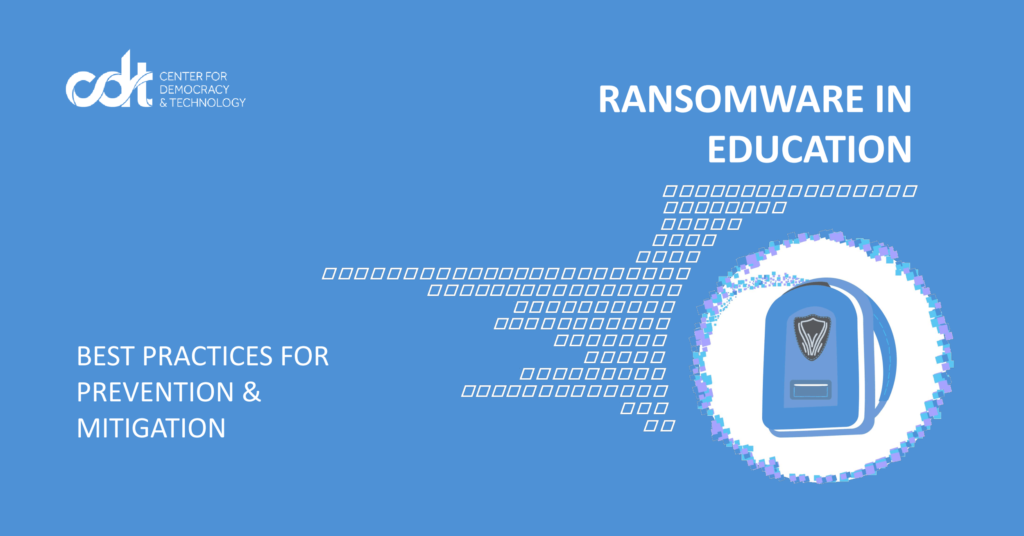 Practitioner training plays a vital role in ensuring that schools, local and state education agencies, and other education organizations use data and technology responsibly. CDT provides a suite of training modules that cover key principles of student privacy protection, cybersecurity, digital equity, and related issues. Here's our full catalog of training modules.
Schools are regular targets for ransomware attacks, particularly as remote and hybrid learning has increased their reliance on technology. These attacks can rob students of critical instructional time, disrupt school operations like payroll or communications, and pull much needed resources from other areas.
CDT's latest training materials guide education practitioners and tech leaders on how to strengthen their systems to limit the likelihood of a successful ransomware attack, and how to mitigate the impact if they do fall victim to an attack. The training covers preventative steps like cybersecurity measures and backup techniques, and mitigation preparation techniques like preparing alternate communication channels and practicing restoring systems.
The training is available as a standalone video, slide deck, and review worksheet.
Preparation and good cybersecurity is an essential part of maintaining systems in a time when schools are a regular target of cyber attacks. This training aims to assist tech leaders in educational contexts to prevent or prepare for ransomware attacks.
Watch the module's video here.
View the module's slide deck here.