Happy Holidays from CDT! Your Support Makes Our Work Possible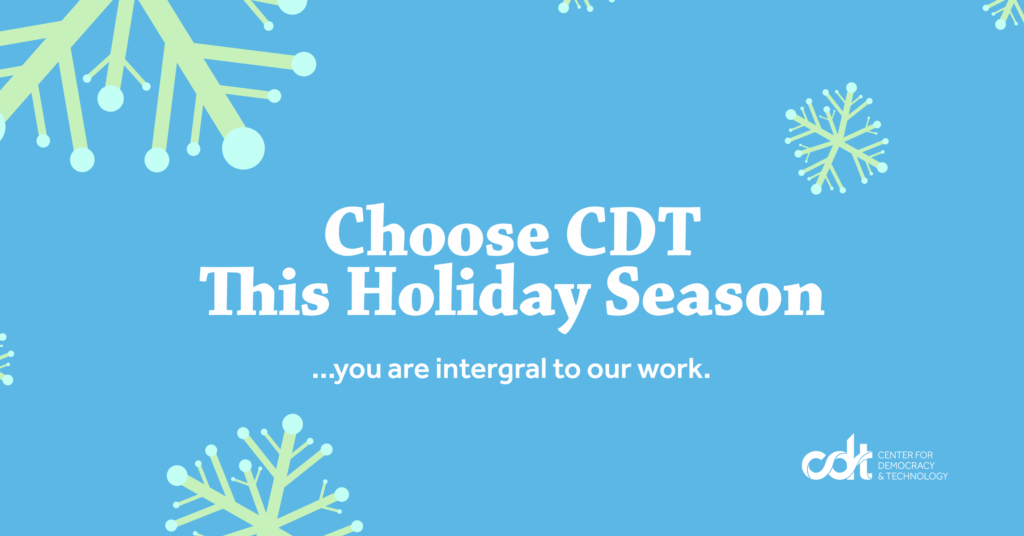 We at the Center for Democracy & Technology (CDT) are making the hard choices to keep fighting for a digital world defined by human rights.
This year and next, we are advocating that technology policy be an integral part of democracy, not an afterthought. Issues like protecting data privacy, supporting credible election systems, limiting government surveillance, and addressing abusive online content fundamentally impact every aspect of democratic governance and human rights, and cannot be ignored.
You can help in this work. When you support CDT, you are making the choice to put civil rights and civil liberties at the center of the digital age. Donate today.
The coming year will be a challenging one, centered upon tech governance that addresses inequality, supports healthy online civic spaces, protects users' privacy, and addresses abusive online content while protecting human rights and the rule of law. There is little more critical to our future than this, and we need your help.
Whether it is $10, $25, $50, or more, your support matters. Donate to CDT this holiday season and have an impact on the future of our society.
Thank you for your continued support of all that we do.
Sincerely,
Alexandra Reeve Givens
President & CEO
Center for Democracy & Technology