2021 Tech Prom
Location
Hook Hall
3400 Georgia Avenue NW
Washington, DC 20010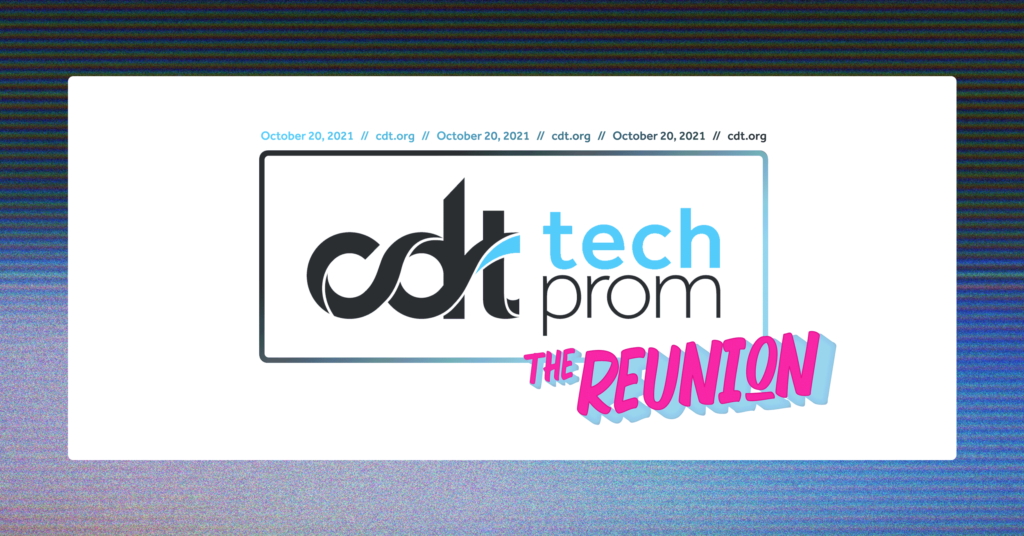 CDT is pleased to announce our 2021 Tech Prom on Wednesday October 20, 2021 from 5:30pm – 10:00pm at Hook Hall in Washington, D.C. Tech Prom is an invitation-only evening bringing together guests from across the tech policy community. This year, our traditional seated dinner has been reimagined in favor of guest lounges, bar areas, and outdoor space to allow social distancing. 
This year's event is both live and virtual – more details about the agenda to follow soon!
Your support of 2021 Tech Prom funds CDT's work throughout the year. We invite you to join us to learn more about CDT, discuss trends in tech policy, and network with policymakers, civil society advocates, government representatives, corporate partners, and the interested public. If you are unable to attend, but wish to support our efforts, donations are welcomed at cdt.org/donate.
CDT is committed to the health and safety of our guests. Safety measures will be enforced, following the venue requirements and the instructions of the CDC in accordance with District of Columbia guidelines. 
In joining us for the 2021 Tech Prom, all guests agree to comply with the safety precautions set forth by CDT, as well as the venue, throughout the course of the evening.
Interested in being a sponsor? Have additional questions about this year's Tech Prom? Reach out via email at [email protected] or 202-407-8821.