2021 Tech Prom
Location
Hook Hall
3400 Georgia Avenue NW
Washington, DC 20010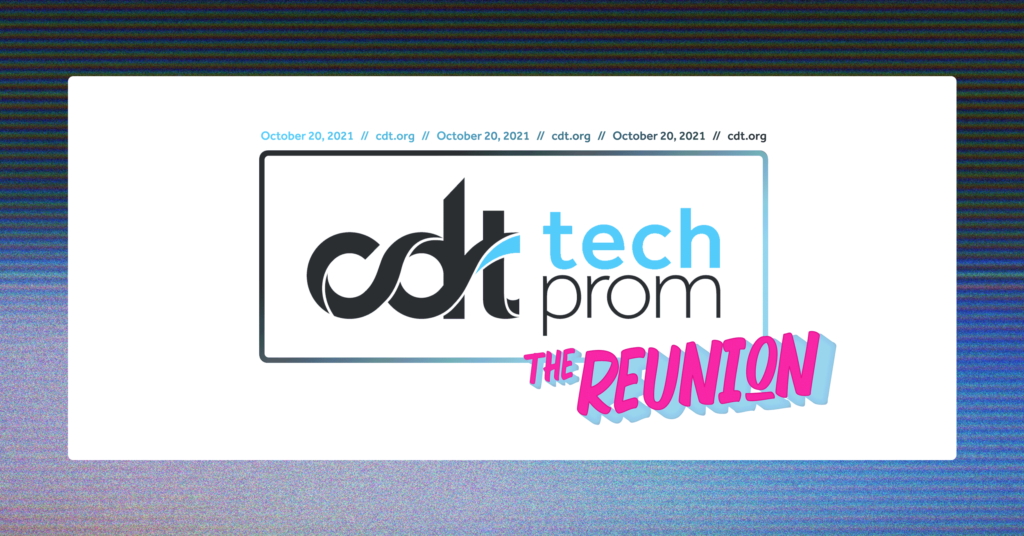 CDT is pleased to announce our 2021 Tech Prom on Wednesday October 20, 2021 from 5:30pm – 10:00pm at Hook Hall in Washington, D.C. Tech Prom is an invitation-only evening bringing together guests from across the tech policy community. This year, our traditional seated dinner has been reimagined in favor of guest lounges, bar areas, and outdoor space to allow social distancing.
This year's event is both live and virtual! The virtual component will take place from 7-8pm Eastern, featuring special guests and a live connection to the in-person event.
Your support of 2021 Tech Prom funds CDT's work throughout the year. We invite you to join us to learn more about CDT, discuss trends in tech policy, and network with policymakers, civil society advocates, government representatives, corporate partners, and the interested public. If you are unable to attend, but wish to support our efforts, donations are welcomed at cdt.org/donate.
We are committed to hosting the safest event possible. All Tech Prom attendees must provide proof of full vaccination to attend this year's event. CDT will ask all attendees to show their physical vaccination card, or an image of their vaccination card from their mobile device, at the door prior to entry. CDT will not collect this or any other information.
Our in-person venue was selected because of its sizable indoor and outdoor space. Guests will be asked to wear masks indoors, and are encouraged to wear them outdoors. In joining us for the 2021 Tech Prom, all guests agree to comply with the safety precautions set forth by CDT, as well as the venue, throughout the course of the evening.
Interested in being a sponsor or purchase a ticket? Have additional questions about this year's Tech Prom? Reach out via email at [email protected] or 202-407-8821.
Dress code: Business / cocktail attire for the post-pandemic era – in other words, what works for you!
Parking: Street parking around Hook Hall is extremely limited. Valet parking is available for a fee of $20 per vehicle. Georgia Ave-Petworth metro station is four blocks away.