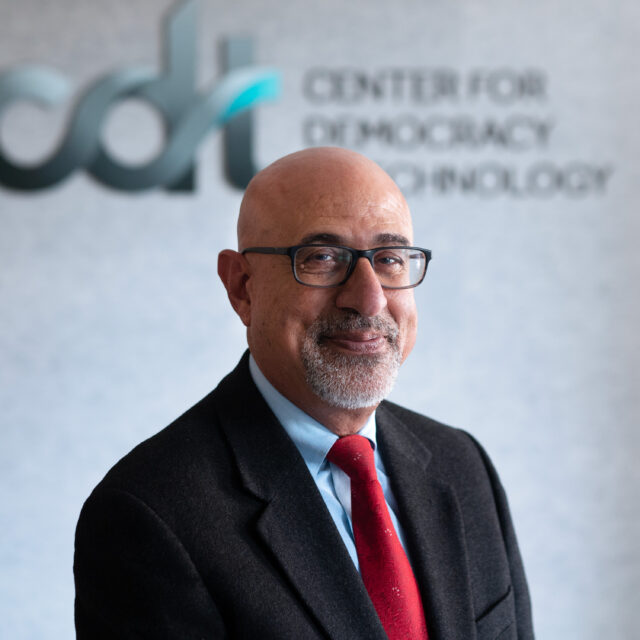 Senior Counsel and Director, Security and Surveillance Project
Gregory T. Nojeim is a Senior Counsel and Director of the Security and Surveillance Project at the Center for Democracy & Technology, a Washington, D.C. non-profit public policy organization dedicated to keeping the Internet open, innovative and free. He specializes in protecting privacy in the digital age against intrusion by the U.S. government, and is a recognized expert on the PATRIOT Act, the Foreign Intelligence Surveillance Act, the Electronic Communications Privacy Act, and the application of the Fourth Amendment to electronic surveillance in the national security, intelligence, and criminal arenas.
Greg directs CDT's initiatives that respond to the 2013 disclosures about NSA surveillance and was engaged in CDT's successful efforts to promote the USA FREEDOM Act of 2015, the bill that ended bulk collection of telephone call records under the PATRIOT Act. Nojeim also spearheaded CDT's initiative to promote judicial supervision of surveillance conducted under 2008 amendments to the Foreign Intelligence Surveillance Act.
He is the lead strategist for CDT's cybersecurity work, testifying in both the House and Senate on the impact of cybersecurity proposals on privacy, civil liberties, and technology innovation. Greg authored "Cybersecurity and Freedom on the Internet" published in the Journal of National Security Law and Policy. He is also deeply involved in a multi-year, broad-based project to update the Electronic Communications Privacy Act to account for new technologies, and is the President of Digital 4th, a coalition formed around ECPA reform.
Greg sits on the Board of Directors of the Global Network Initiative, a multi-stakeholder group of companies, human rights and press freedom organizations, academics and investors who collaborate to advance freedom of expression and privacy in the ICT sector. He is a member of the Data Privacy and Integrity Advisory Committee which advises the Department of Homeland Security on privacy matters. As Co-Chair of the Coordinating Committee on National Security and Civil Liberties of the American Bar Association's Section on Individual Rights and Responsibilities, he was one of the lead drafters of the ABA's 2007 policy on the state secrets privilege.
Prior to joining CDT in 2007, Greg was the Associate Director and Chief Legislative Counsel of the ACLU's Washington Legislative Office. At the ACLU, he analyzed the civil liberties implications of terrorism, national security, immigration, and informational privacy legislation. Greg also served for four years the Director of Legal Services of the American-Arab Anti-Discrimination Committee, and conducted much of ADC's work on immigration, civil rights, and human rights. He was an attorney with the Washington, D.C. law firm of Kirkpatrick & Lockhart (now K&L Gates) where he specialized in mergers and acquisitions, securities law, and international trade.
Greg graduated from the University of Rochester in 1981 with a B.A. in Political Science. He received his J.D. from the University of Virginia in 1985 and sat on the Editorial Board of the Virginia Journal of International Law.