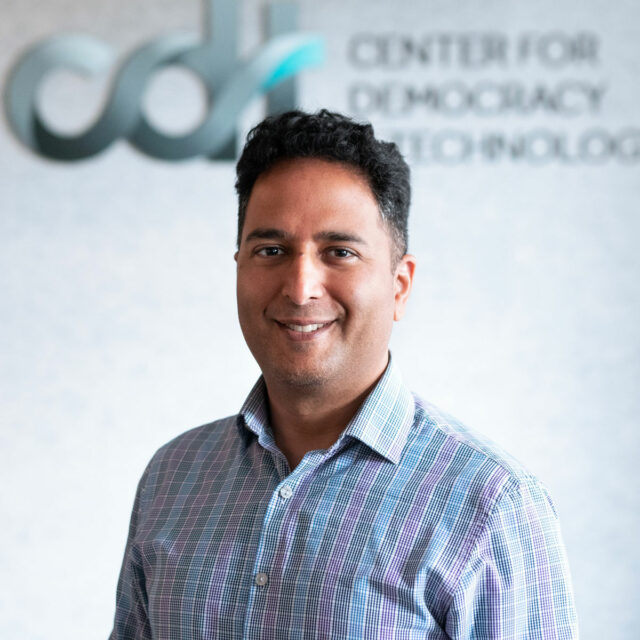 Dhanaraj Thakur is Research Director at the Center for Democracy & Technology, where he leads research that advances human rights and civil liberties online. Over the last 15 years, he has designed and led research projects that have significantly informed tech policy and helped improve the way public policy problems are framed. These have ranged from large multi-national research projects to those working with groups of individuals.
He has been interviewed and his work quoted in several news media, including WIRED, CNN, the WSJ, the Economist, the Guardian (UK), and the Financial Times, among others. In addition, he has published over 40 peer reviewed journal articles, book chapters, and conference papers; as well as reports for civil society organizations, multilateral development banks, and governments.
He is currently a program committee member of the Technology Policy Research Conference (TPRC) and the North America and Caribbean Network on Learning, Innovation, and Competence Building Systems (NACLICS), on the advisory board of #ShePersisted, and is a Visiting Faculty member at Howard University's Dept. of Communication, Culture, and Media Studies. A former Fulbright scholar, Inter-American Development Bank scholar, and ISOC Ambassador, Dhanaraj previously led research at the World Wide Web Foundation, focusing on broadband access and affordability, gender equality online, and data rights. Prior to that he held political science faculty positions at Tennessee State University and the University of the West Indies (Mona, Jamaica). He holds a PhD in Public Policy from the Georgia Institute of Technology (USA), and is a graduate of the London School of Economics, the University of the West Indies, and the University of Technology in Jamaica.