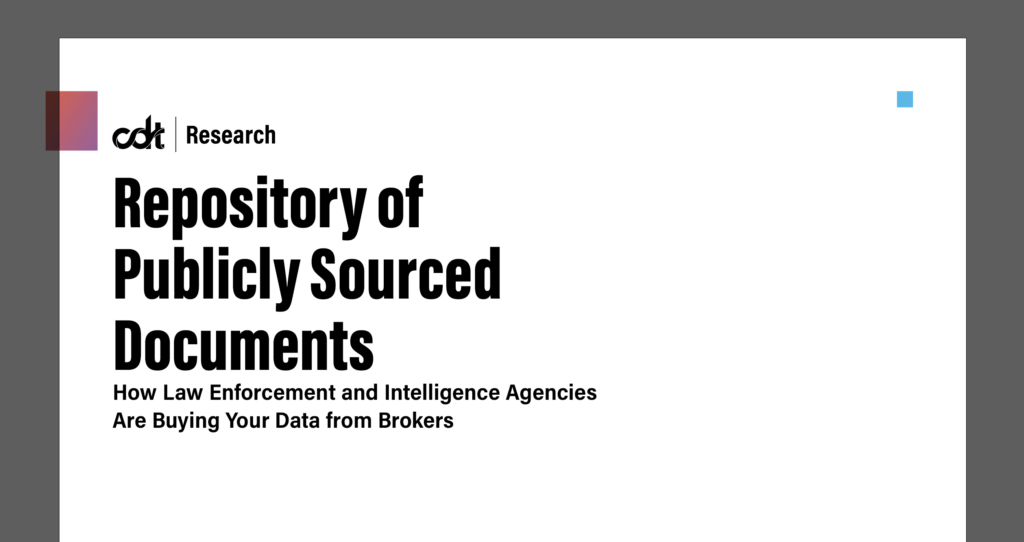 In a new report by CDT entitled Legal Loopholes and Data for Dollars: How Law Enforcement and Intelligence Agencies Are Buying Your Data from Brokers, we examine a) the nature and scale of the purchase of personal data by federal law enforcement and intelligence agencies from data brokers, and b) how these agencies rely on such purchases in situations where they should be first required to obtain a warrant or other formal legal process. As part of this research, we reviewed numerous publicly available documents that described the ways in which federal law enforcement and intelligence agencies work with data brokers.
We used a variety of methods to identify relevant public documents. These included searches of awards as well as government documents on a variety of contract-compilation services. We restricted searches to relevant agencies and divisions, and gave priority to documents issued after the Supreme Court's decision in Carpenter v. United States in 2018. We referenced keywords from a combination of awards, government documents, news articles, and agency memoranda to attempt to pinpoint alternative ways that activities were described.
In all, we cited 39 of these documents in our report. These are all listed here for convenience, transparency, and the aid of future reporting & research.