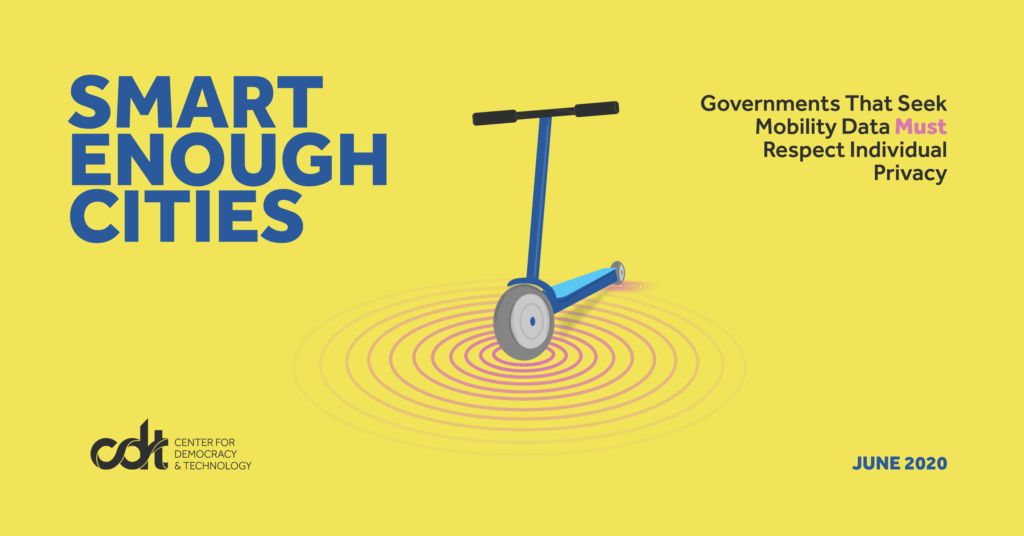 Authored by Mana Azarmi & Noah Resnick
Introduction
This white paper explains the growth of shared mobility services such as electric scooters, dockless bicycles, and ride-sharing services like Uber and Lyft, the opportunities they provide to users, and the challenges they pose to cities. It then explores how cities have attempted to meet some of those challenges by compelling shared mobility services to, on a routine basis and for regulatory, non-criminal purposes, disclose sensitive information about how individuals use shared mobility services: trip origins, destinations, routes taken, and time of travel. It outlines the privacy, security, and legal risks (both to individuals and municipalities) of data-sharing obligations imposed by cities on shared mobility services, and then offers recommendations for how those risks could be mitigated through limitations on the types of information that can be routinely compelled from shared mobility services, and the uses to which such data can be put.
We believe the privacy and security risks to individuals of the compelled disclosure of information about their use of shared mobility services are clear. They largely stem from the dangers of releasing location information. This data is revealing and difficult to anonymize, raising a host of privacy issues. The risks to cities are equally great. They stem from the potential of shared mobility companies and their users challenging compelled collection of location information under privacy laws, as well as the security risks and danger of public disapproval of overly broad data collection. The goal of this paper is to help decision-makers in cities and states understand these risks and handle their responsibility as stewards of the public right of way in a privacy-respecting manner.
Read more from this paper here.