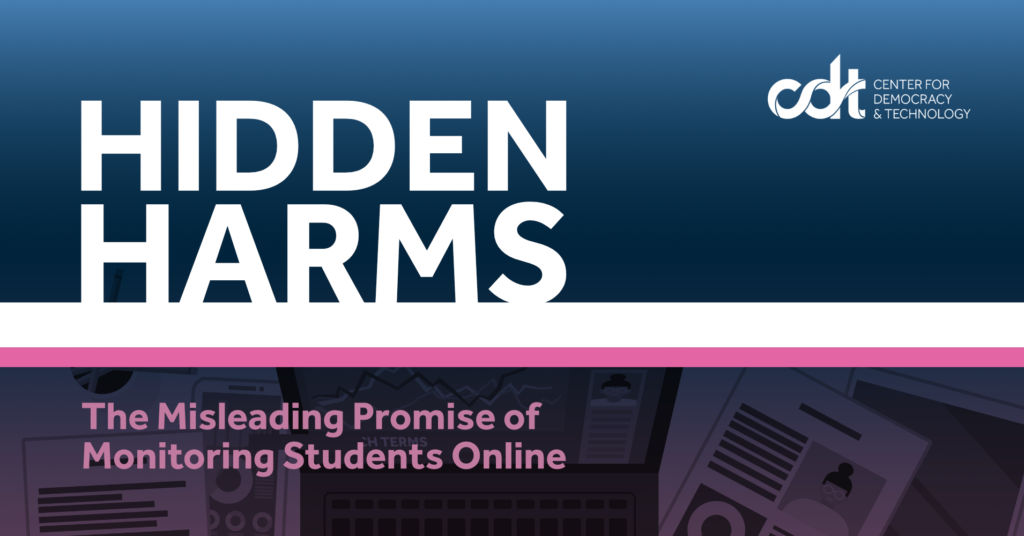 The pressure on schools to keep students safe, especially to protect them physically and support their mental health, has never been greater. The mental health crisis, which has been exacerbated by the COVID-19 pandemic, and concerns about the increasing number of school shootings have led to questions about the role of technology in meeting these goals. From monitoring students' public social media posts to tracking what they do in real-time on their devices, technology aimed at keeping students safe is growing in popularity. However, the harms that such technology inflicts are increasingly coming to light.
CDT conducted survey research among high school students and middle and high school parents and teachers to better understand the promise of technologies aimed at keeping students safe and the risks that they pose, as reported by those most directly interacting with such tools. In particular, the research focused on student activity monitoring, the nearly ubiquitous practice of schools using technology to monitor students' activities online, especially on devices provided by the school. CDT built on its previous research, which showed that this monitoring is conducted primarily to comply with perceived legal requirements and to keep students safe. While stakeholders are optimistic that student activity monitoring will keep students safe, in practice it creates significant efficacy and equity gaps:
Monitoring is used for discipline more often than for student safety: Despite assurances and hopes that student activity monitoring will be used to keep students safe, teachers report that it is more frequently used for disciplinary purposes in spite of parent and student concerns.
Teachers bear considerable responsibility but lack training for student activity monitoring: Teachers are generally tasked with responding to alerts generated by student activity monitoring, despite only a small percentage having received training on how to do so privately and securely.
Monitoring is often not limited to school hours despite parent and student concerns: Students and parents are the most comfortable with monitoring being limited to when school is in session, but monitoring frequently occurs outside of that time frame.
Stakeholders demonstrate large knowledge gaps in how monitoring software functions: There are significant gaps between what teachers report is communicated about student activity monitoring, often via a form provided along with a school-issued device, and what parents and students retain and report about it.
Additionally, certain groups of students, especially those who are already more at risk than their peers, disproportionately experience the hidden harms of student activity monitoring:
Students are at risk of increased interactions with law enforcement: Schools are sending student data collected from monitoring software to law enforcement officials, who use it to contact students.
LGBTQ+ students are disproportionately targeted for action: The use of student activity monitoring software is resulting in the nonconsensual disclosure of students' sexual orientation and gender identity (i.e., "outing"), as well as more LGBTQ+ students reporting they are being disciplined or contacted by law enforcement for concerns about committing a crime compared to their peers.
Students' mental health could suffer: While students report they are being referred to school counselors, social workers, and other adults for mental health support, they are also experiencing detrimental effects from being monitored online. These effects include avoiding expressing their thoughts and feelings online, as well as not accessing important resources that could help them.
Students from low-income families, Black students, and Hispanic students are at greater risk of harm: Previous CDT research showed that certain groups of students, including students from low-income families, Black students, and Hispanic students, rely more heavily on school-issued devices. Therefore, they are subject to more surveillance and the aforementioned harms, including interacting with law enforcement, being disciplined, and being outed, than those using personal devices.
Given that the implementation of student activity monitoring falls short of its promises, this research suggests that education leaders should consider alternative strategies to keep students safe that do not simultaneously put students' safety and well-being in jeopardy.
See below for our complete report, summary brief, and in-depth research slide deck. For more information, see our letter calling for action from the U.S. Department of Education's Office for Civil Rights — jointly signed by multiple civil society groups — as well as our related press release and recent blog post discussing findings from our parent and student focus groups.