Also authored by CDT Europe's Vânia Reis and Rachele Ceraulo
This is the May 2023 issue of the Centre for Democracy & Technology Europe's monthly Tech Policy Brief. It highlights some of the most pressing technology and internet policy issues under debate in Europe, the U.S., and internationally, and gives CDT's perspective on them. Our aim is to help shape policies that advance our rights in a digital world. Please do not hesitate to contact our team in Brussels: Iverna McGowan, Asha Allen, and Ophélie Stockhem.
CDT Europe Director Joins "Europe Calling" to Talk DSA Implementation
On 24 April, CDT Europe Director Iverna McGowan joined an episode of "Europe Calling" — a monthly podcast series presented by the European Commission's Audiovisual Service — for a discussion on the implementation of the EU's Digital Services Act with Margrethe Vestager, Executive Vice-President of the European Commission, and Jan Penfrat, EDRi's Senior Policy Advisor.
McGowan highlighted the incredible opportunity the DSA provides the European Union for holding platforms and governments to account, in particular through the law's obligations to enhance algorithmic transparency and accountability, and obligations for private actors, governments, and judicial authorities to appropriately respond to illegal content online.
While there are many reasons to celebrate the DSA, the law still contains fundamental rights issues, which McGowan touched on. In particular, the DSA empowers law enforcement to act as "trusted flaggers" of illegal content, which gives them a dual role in the notice-and-action process of dealing with illegal content, and raises significant human rights concerns about potential abuses of that process.
Responding to the question on how to prepare for future technological advancements, McGowan insisted on the need to embed strong safeguards today that will stand the test of time, for example, to ensure that individuals are not subject to pervasive tracking; to protect citizens from algorithmic discrimination; and to ensure that privacy and data protection laws are upheld and robustly enforced in practice.
CDT Europe Joins Open Letter to Protect Encryption
On 6 April, CDT Europe, together with EDRi and other civil society partners, sent an open letter to European Commission officials and Swedish Prime Minister Ulf Kristersson. Signatories raised strong concerns over planned EU-U.S. campaigns to influence public opinion in favour of law enforcement access to encrypted communications in criminal investigations. The letter reacted to leaked notes from a recent meeting between EU and U.S. senior officials on Justice and Home Affairs, which demonstrated the officials' apparent disregard for human rights and attacks against encryption.
In the letter, signatories echo the UN High Commissioner for Human Rights in highlighting that efforts to weaken encryption, one of the strongest tools for protecting the human rights of people around the world, risk undermining the right to privacy and confidentiality of communications.
The letter calls on the European Commission and EU Member States to preserve encryption, and ensure that legal obligations to implement privacy by design or default are only limited for necessary and proportionate reasons in line with international human rights law.
CDT speaks with RTÉ Radio 1 to Raise Concerns about the Use of Facial Recognition Technology
On 22 April, CDT Europe Director Iverna McGowan joined RTÉ Radio 1 to discuss digital surveillance issues, including use of facial recognition technology.
McGowan highlighted the risks that law enforcement use of facial recognition, to conduct untargeted scans of large crowds, poses to human rights and democracy. These systems frequently discriminate against the most at-risk and vulnerable groups; McGowan welcomed proposed provisions of the EU AI Act that would prohibit facial recognition technologies in this context.
McGowan also stressed challenges raised by the use of AI applications in recruitment and hiring AI. AI systems can be used to analyse the emotional states of candidates during interviews, which could result in elimination of candidates based on gender, and have a disproportionate impact on persons with disabilities, as highlighted by CDT research on AI systems used in employment. Given the significant harms that AI systems can cause in this context, McGowan also discussed why it is important for people to be able to access remedies for harm resulting from AI decision-making.
CDT Europe Joins Bumble Roundtable Discussion on Gender-Based Violence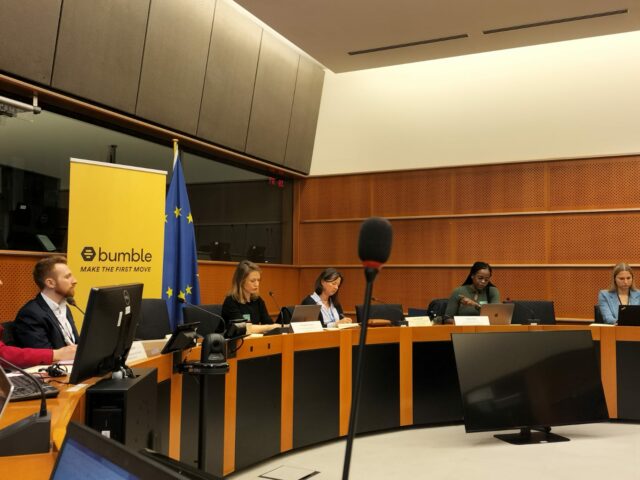 On 12 April, Asha Allen, CDT Europe's Advocacy Director for Online Expression and Civic Space, joined a roundtable discussion on the EU Directive on online gender-based violence (GBV), which was hosted by dating app Bumble and organised by MEP Karen Melchior.
Allen reflected on several aspects of the Directive, noting that its criminalisation of certain forms of online gender-based violence may result in disproportionate and discriminatory enforcement, particularly against marginalised groups. She also highlighted how, despite the Directive marking a significant step towards establishing a European-level legal framework for broadly addressing GBV, it fails to align with international human standards on protecting free expression, and specifically fails to align with the principles of proportionality and necessity.
---
European Digital Rights (EDRi) and the Digital Freedom Fund (DFF) are looking for your input on a draft programme for an initial decolonising process for the digital rights field in Europe. Our goal is to initiate a process that challenges the structural causes of oppression such as racism, sexism, ableism, homophobia, transphobia, imperialism, and class inequality to work towards a digital rights field that centres on rights and justice for all. Answer the consultation ➡ https://edri.org/our-work/decolonising-the-digital-rights-field/