Part 1: Regional Computer Forensic Labs
Since the Dobbs decision overturning Roe v. Wade, the Biden Administration has made clear that it wants to fight against the criminalization of reproductive health decisions. It's taking a range of steps in support of this goal, such as trying to shield abortion medication. However, the Administration has taken little action to curb states' ability to engage in abortion surveillance — the gathering of data in order to prosecute people who perform, assist or have abortions — such as supporting legislation that would close loopholes that allow police to buy sensitive information that should require a warrant to obtain.
One step the White House should take is to end federal assistance for state and local law enforcement surveillance activities when they are used to investigate individuals for their reproductive health choices and activities.
This series of blog posts will examine several important forms of federal support for such surveillance and investigative activities, detail the risks these programs pose, and identify steps the Administration should take to prevent federal resources from being employed for surveillance that aids the investigation and prosecution of people for providing, aiding, or seeking out abortion services.
Here, we address how the Administration could ensure that the FBI's Regional Computer Forensic Laboratories do not assist with abortion-related state investigations. In subsequent posts, we will address the National Domestic Communications Assistance Center, Fusion Centers, support from FBI field offices and its Computer Analysis Response Team to local police, and the FBI's Next Generation Identification system.
What Are Regional Computer Forensic Laboratories, and What Do They Do?
The FBI's Operational Technology Division provides aid to local and state law enforcement through a series of Regional Computer Forensic Laboratories (RCFLs). These facilities are designed to provide a wide variety of services to help state and local law enforcement conduct digital investigative activities, forensic analysis, and surveillance. RCFLs also train local law enforcement in digital forensic tools and techniques; in Fiscal Year 2020 RCFLs provided training to 2612 law enforcement officials.
In practical terms, RCFLs help police obtain and access evidence from electronic devices in a variety of ways. They can copy a cell phone or laptop that was seized, or help open it if the device is encrypted with a password only known to the user. They can sort through the mass of digital files on a device — often a complex task given how data can be spread across apps, kept in different file formats, or deleted but in recoverable form — and identify relevant data for a case. They can provide forensic analysis such as finding metadata about when and where digital records were created (such as a video that is evidence of a crime), or communications and web browsing records (such as visits made to and purchases at a site on the dark web focused on selling illicit materials)
According to its most recent annual report, "The FBI invests significant funds on computer examination workstations and advanced software for all certified and forensic examiners in training. Participating agencies receive access to mobile device unlocking services and other advanced forensic techniques … [and] immediate access to expert analysis and advanced technology."
It is easy to imagine how this FBI-based aid could be coopted to enforce abortion bans. Local police could get help accessing messages on an encrypted phone to prove a person aborted a pregnancy rather than that a miscarriage occurred. A seized computer from a doctor could be cloned and examined to find records on patients receiving reproductive health care. Data could be mined from a server to unearth how individuals were using online services to provide and receive medication abortion and other forms of reproductive health assistance.
There are 17 RCFLs across the country, five of of which (Dallas, Houston, Huntsville, Kansas City, and Louisville) are in states that now ban abortion. A sixth is located in Utah, where a ban is currently under legal review; that RCFL also supports law enforcement from Idaho, which already has a ban in effect. A seventh RCFL, located in Denver, provides services to law enforcement from Wyoming, which also has a ban that has been paused pending legal review.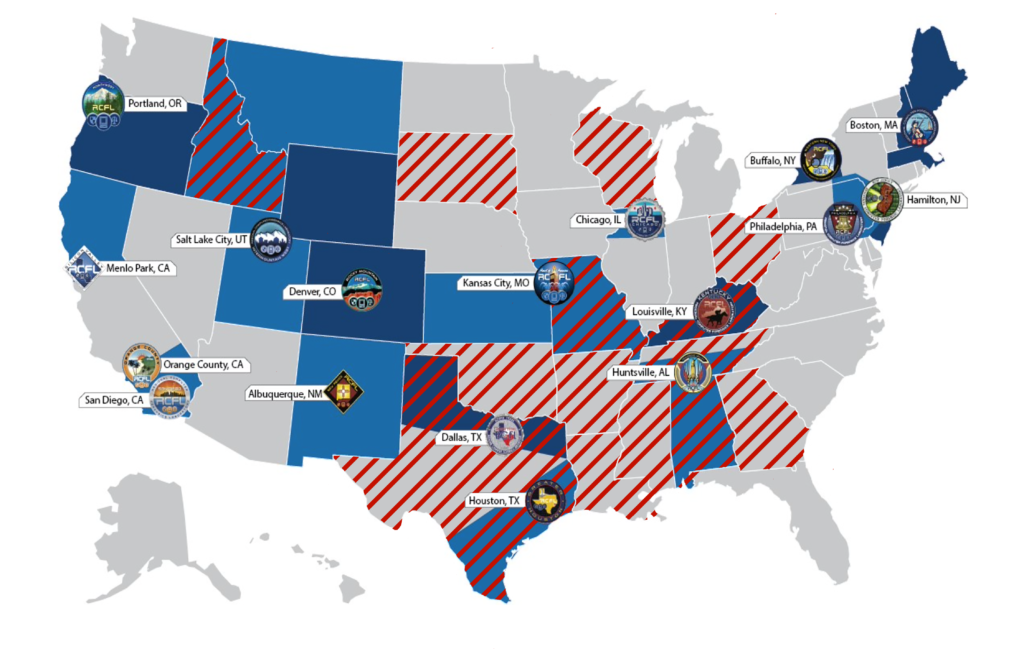 In Fiscal Year 2020, RCFLs received 3,662 state and local service requests from 576 state and local law enforcement agencies. Lab personnel conducted 646 on site searches. Many of these were from RCFLs that provide services to states that now ban abortion. For example, the North Texas RCFL received 240 state and local service requests from 31 state and local law enforcement agencies, and the Heart of America RCFL, which serves Missouri, received 418 state and local service requests from 51 state and local law enforcement agencies.
How Can the White House Ensure That RCFLs Do Not Assist With Abortion-Related Investigations?
Each RCFL is managed according to its own rules, set through a Local Executive Board composed of participating agencies, and memorandums of understanding agreed to by all participants. The FBI does not have unilateral authority to set RCFL rules, and it wouldn't be able to unilaterally block all requests for assistance in abortion-related cases because the legal and factual details of an investigation may not always be apparent (for example, state authorities sometimes prosecute abortions under a neutral statute involving child endangerment or homicide).
However, the expertise, resources, and funding the FBI provides give it significant leverage. Reform could focus on limiting the class of investigations for which the FBI provides assistance, as opposed to restrictions on training on investigative techniques that could be used in a variety of investigations. The Administration could instruct the FBI to condition its continued participation at RCFLs on reaching new MOUs that include prohibitions on using RCFLs to support abortion-related investigations. Focusing RCFLs on certain types of crimes is not an unprecedented concept. For example, the Greater Houston RCFL memorandum of understanding contains a list for which types of cases should receive high or low priority.
The Administration has been vocal that it wants to defend reproductive health rights. New policy for RCFL support and similar types of surveillance aid are critical to turning those words into action, and key not only to defending reproductive rights, but also stopping the federal government from actively undermining them.