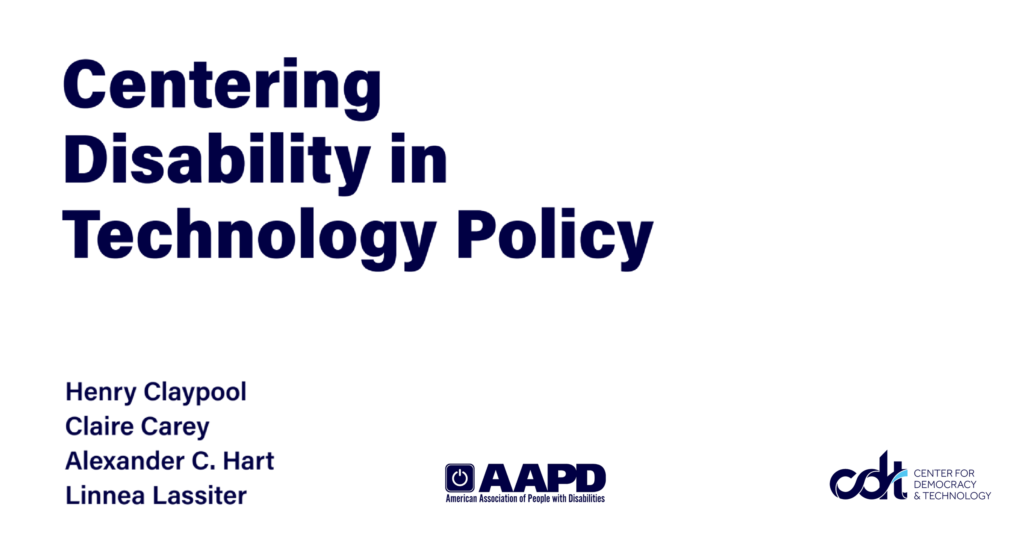 Overview
Technology has the power to create a more just and inclusive society by providing greater autonomy, safety, economic opportunity, and convenience for historically marginalized groups. However, all too often, technology instead exacerbates existing discrimination and the structural barriers faced by historically marginalized groups, including people of color, women, and people with disabilities, and especially those who experience intersecting forms of oppression.
Undertaken as a collaboration between the American Association of People with Disabilities (AAPD) and the Center for Democracy and Technology (CDT) with the support of Freedman Consulting, this report is intended to help public interest organizations do more inclusive, effective work at the intersection of technology and disability issues in the United States. Based on conversations with 20 disability and technology leaders, this report will explore issue areas and ways where technology justice organizations can better integrate a disability lens into their work. In addition, issues surfaced in this report may help disability groups identify meaningful opportunities to engage on technology policy issues and advance their often-long-standing priorities. Along with identifying policy issues at the intersection of disability and technology, this report will also highlight the challenges and needs that must be addressed in order to break down barriers between siloed fields and do more effective work.
Historically, technology has played a significant role in improving the quality of life, and in certain instances, longevity, for many disabled people. This report is not meant to contest or stand in denial of that reality. In taking an intersectional approach, this report aims to ensure that the pursuit of technologies to create opportunity and lower barriers for some does not create inequities or limitations for others. Technology has great potential to improve life and autonomy for people with disabilities, but it also requires equitable and inclusive development, thoughtful, responsive implementation and oversight, and a commitment to identifying and mitigating harms to already-marginalized communities.
Methodology
The research, takeaways, and conclusions in this report draw on expert interviews and supplemental research, all of which were undertaken from May to September 2021.