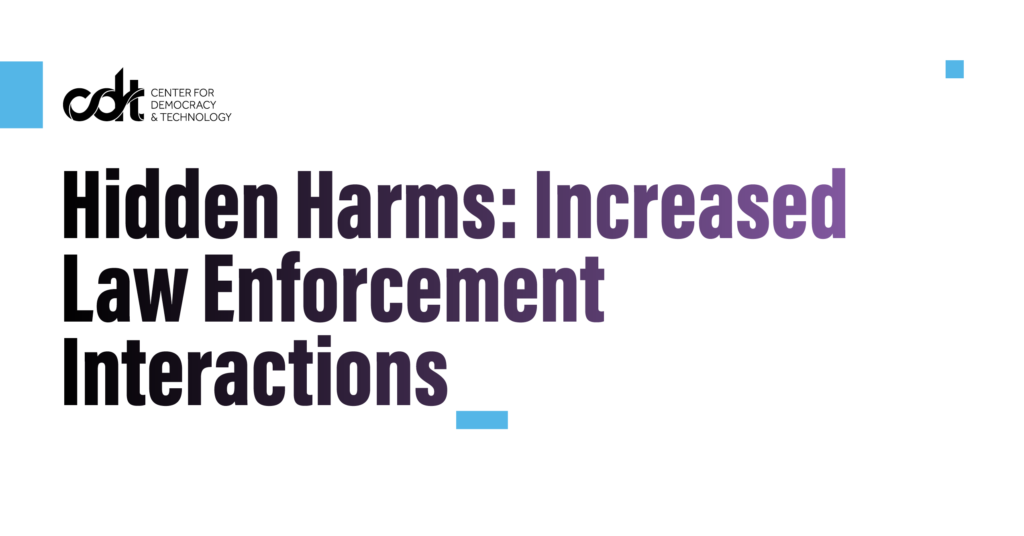 In the wake of high-profile school shootings, schools have considered, and in some cases implemented, plans to increase the number of law enforcement officers on campus. Other school districts have determined this could actually lead to more harm than good and minimized or eliminated police in schools entirely. This same debate is taking place regarding how technology enables increased law enforcement interactions with students, including monitoring students' online activities.
Recent research from CDT shows that technologies, such as student activity monitoring, are leading to increased contact between students and law enforcement, including in students' homes. In fact, 44 percent of teachers report that they know of a student who has been contacted by law enforcement as a result of information gathered via activity monitoring, and 37 percent of teachers whose school uses student activity monitoring report that their school sends alerts to law enforcement outside of school hours.
Not surprisingly, disagreements, similar to those regarding the presence of police on campus, exist with respect to law enforcement's receipt of student information as well as their involvement in monitoring and responding to students' online activities. We found that:
Students from historically marginalized communities are more uneasy about sharing student activity monitoring information with law enforcement than their peers;
Parents with a greater understanding of student privacy practices are more concerned about law enforcement receiving student information generally but more comfortable with their involvement in online monitoring; and
Teachers who work with students from low-income and special education communities are more concerned about sharing student data with law enforcement, including student activity monitoring information.