An Object Lesson in Overblocking
One of our primary concerns with seizing and blocking entire domains to combat illegal content is the risk that doing so can impact much more than just the bad stuff, including protected lawful speech. Now it seems ICE may have proved our point. Torrentfreak reported that a seized domain (mooo.com, owned by dynamic DNS provider Free DNS) resulted in over 84,000 subdomains becoming unreachable through the DNS. Free DNS claims 84,857 hosts under the domain. Those sites include many personal websites that do not appear to be hosting any illegal content. (Four examples: here, here, here, and here).
ICE announced on Tuesday that it had seized ten domains of websites "engaged in the advertisement and distribution of child pornography." The agency has not confirmed that mooo.com was among the domains it seized, but Free DNS did put up a statement that its mooo domain had been suspended "at the registrar level," and this screenshot shows that today's Bing cache still lists some sites as "Seized by ICE":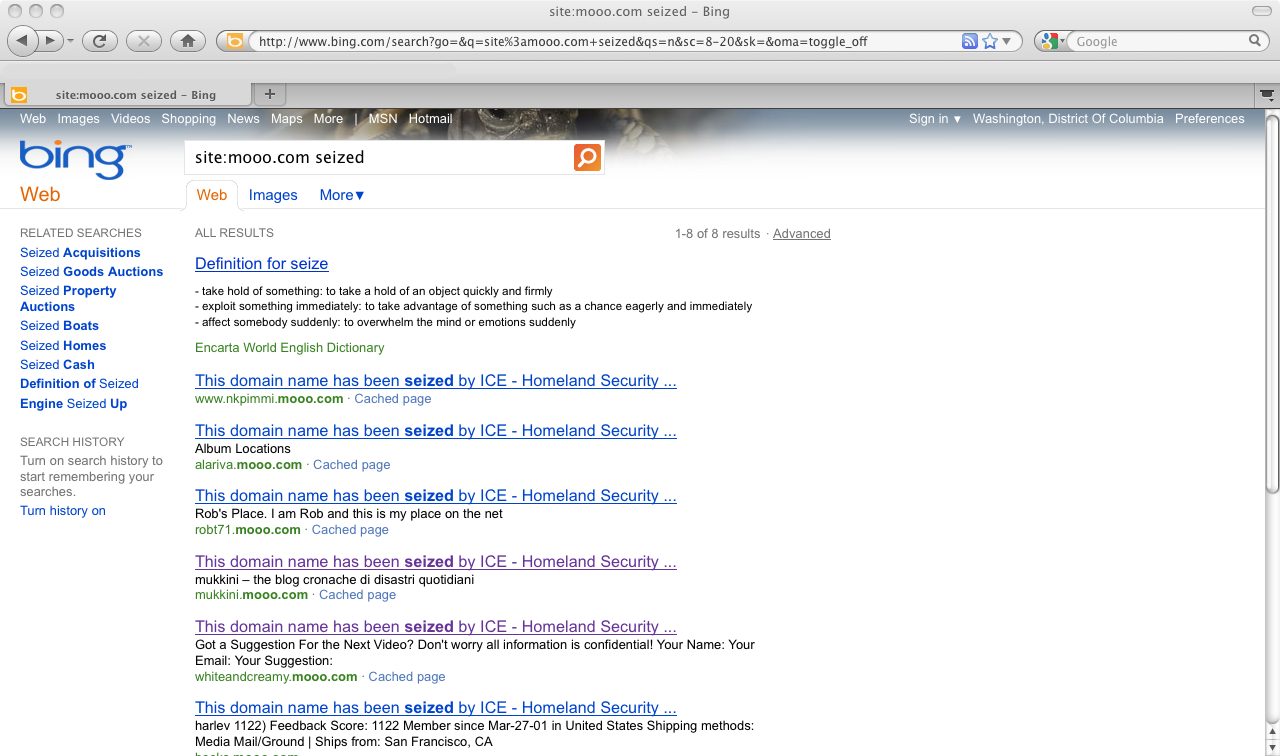 These sites (including a parent's photo-blog) and others are back up, indicating that the dramatic overblocking has been corrected. I hope this means that ICE and Free DNS were able to take a more targeted approach toward removing illegal content, and that any child pornography available through the domain has been removed and its purveyors are being prosecuted.
But the fact that so much was swept up plainly illustrates that domain-name seizure is a blunt tool for targeting illegal material – a tool that can create serious problems for free expression online. This is exactly what happened in 2002 when Pennsylvania tried to block access to child pornography and ended up blocking hundreds of thousands of innocent sites. This is the message CDT has been communicating to the Senate as it considers ways to combat illegal sites. Maybe this hard evidence of the consequences will help that message get through.