X4D: Privacy and Participation on Social Media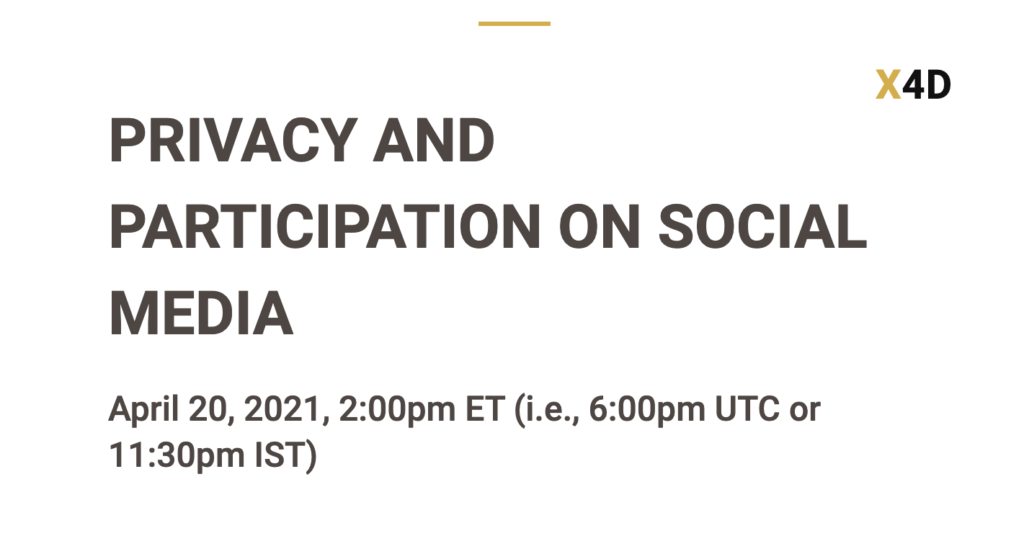 X4D: Privacy and Participation on Social Media
Session Description: Private messaging and social media apps are very popular around the world. As such, they have attracted attention from authoritarian and democratic governments alike through efforts to both protect and infringe upon people's rights.
This panel will feature an inter-disciplinary set of researchers that will examine how social media and messaging apps are being used to promote civic participation, polarization and misinformation, surveillance, and to protect user privacy and enhance security. We will also assess potential next steps for research and what can be done in terms of policy.
Date: April 20, 2021
2:00pm ET / 6:00pm UTC / 11:30pm IST
Moderated by CDT's Dhanaraj Thakur. No registration is required. The connection details are on the X4D's event page.
Speakers:
Mallory Knodel, Center for Democracy & Technology, USA
Joyojeet Pal, Microsoft Research, India
Maggie Jack, Syracuse University and University of California, Irvine, USA
Kiran Garimella, Massachusetts Institute of Technology, USA