TSPA – Transparency Reports: Opportunities & Challenges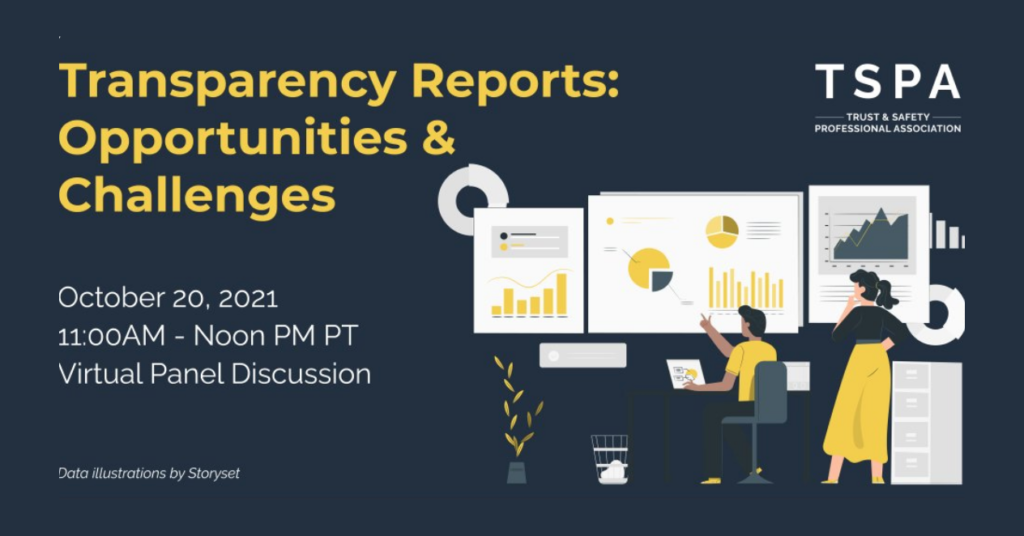 Date: October 20, 2021
Time: 11:00 am – 12:00 pm PDT  //  2 – 3 PM ET
Transparency Reports: Opportunities & Challenges
Hosted by TSPA
More info + registration here.
In recent years, there has been greater interest by government, academia, and civil society on technology companies' digital governance and enforcement measures of their platforms. Since 2010, approximately 70 internet and telecommunication companies have voluntarily released regular transparency reports, and recent transparency reports have evolved to capture more metrics as well as more contextual information. As companies strive to develop more nuanced and informative reports, there are many opportunities as well as challenges.
Building upon TSPA's recently published Trust and Safety Curriculum fundamental chapter on transparency reports, this panel discussion explores those practical challenges. The event will bring together a group of experienced trust and safety professionals and academics to discuss questions relating to how companies can define and contextualize meaningful metrics, and the future of scaled versus narrative-based reporting. We'll talk about challenges and lessons learned on how to help the public understand and accurately interpret transparency reports. We'll also touch on the current regulatory landscape on reporting requirements and regulatory trends that are emerging.
Moderator: Kate Jung, Strategic Initiatives Program Manager, Facebook
Panelists:
Jessica Ashooh, Director of Policy, Reddit
Daphne Keller, Director of Program on Platform Regulation, Stanford Cyber Policy Center
Vishwanath Sarang, Product Technical Program Manager, Integrity, Facebook