The Atlantic & University of Chicago: Disinformation and the Erosion of Democracy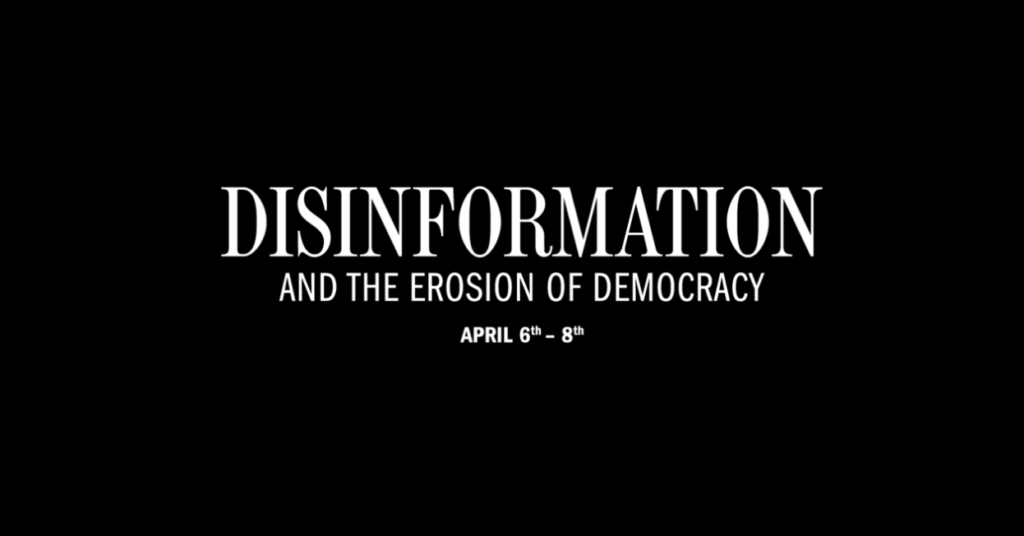 The Atlantic & University of Chicago: Disinformation and the Erosion of Democracy
With democracies across the globe under assault,The University of Chicago's nonpartisan Institute of Politics and The Atlantic are hosting Disinformation and the Erosion of Democracy, a groundbreaking three-day event exploring the organized spread of disinformation and strategies to respond to it.
The conference, April 6 to 8, will explore the roots and scope of the problem, the next-generation threats posed by new technological advances, and the tools and policies required to neutralize them. Panels will also discuss the challenge presented when the term disinformation itself becomes fractious, and the tension between free expression and the need to combat wanton and willful disinformation aimed at eroding it.
Session: How Powerful Are Algorithms Really?
Date: Thursday, April 7, 2022
Time: TBD
The integrity workers at big tech platforms who have sounded the alarm about algorithmic informational environments often remind us that algorithms aren't smart, but they are tremendously powerful. And because their inner workings are largely invisible to the public, the platforms that control them wield huge power with little to no accountability. At the same time, critics argue that concern about algorithmic influence is overblown. What is the true scope of the problem, and how should we approach solving it?
Speakers:
Camille François, Columbia University
Karrie Karahalios, computer science professor at University of Urbana-Champaign
Gabriel Nicholas, researcher at Center for Democracy & Technology
Casey Newton, founder of Platformer News (moderator)
What to Expect
– 15+ sessions exploring a wide variety of topics including: the history of disinformation, the role of the media versus publisher, the psychology of conspiracy theories, how propaganda changes through natural language processing, and much more
– Global experts and policymakers including: Barack Obama, former President of the United States; Maria Ressa, CEO, Rappler and 2021 Nobel Peace Prize Winner; Jeffrey Goldberg, Editor in Chief of The Atlantic; David Axelrod, Director of the Institute of Politics; Anne Applebaum, staff writer at The Atlantic; Joan Donovan, Research Director, Shorenstein Center on Media, Politics and Public Policy; Chris Krebs, Partner, Krebs Stamos Group and former Director, Cybersecurity and Infrastructure Security Agency
– Opportunities to connect with industry professionals
– Resources on how to be better informed of the ways disinformation works and how to combat it