Stanford Internet Observatory – Content Moderation in an End-to-End Encrypted World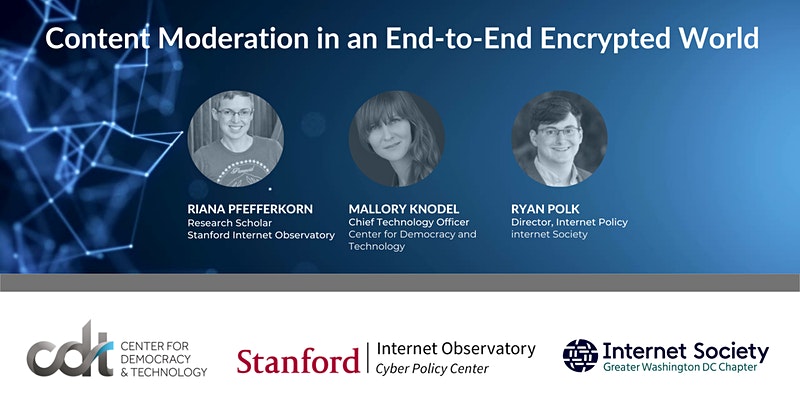 Content Moderation in an End-to-End Encrypted World
Date: April 1, 2022
Time: 10:00 AM – 11:00 AM ET
Availability: RSVP Required.
FSI Contact: Riana Pfefferkorn, [email protected].
Join the Stanford Internet Observatory, the Greater Washington DC Chapter of the Internet Society, and the Center for Democracy & Technology on April 1 to discuss Content Moderation in an end-to-end encrypted world.
In recent years, we have seen law enforcement agencies and policymakers shift the focus of the encryption debate to social media platforms and messaging services' content moderation policies and practices. While not always explicitly targeting end-to-end encryption (E2EE), proposals to regulate social media companies, including the proposed EARN IT Act bill in the U.S., MeitY's Intermediary Guidelines in India, and the proposed Online Safety Bill in the U.K. could have serious implications for end-to-end encrypted (E2EE) services.
As this policy debate continues, companies have proposed methods to moderate content on E2EE platforms that raise privacy concerns, such as those that utilize machine learning and client-side scanning. To better inform the debate, researchers at the Center for Democracy & Technology (CDT) and the Stanford Internet Observatory have produced timely research to assess the impact that various techniques would have on the E2EE systems of online service providers.
This event will feature presentations on critical research in this area, and will highlight global efforts to defend encryption against movements to undermine it. These presentations will be followed by an open discussion on the road ahead for content moderation in an end-to-end encrypted world.
Speakers:
Riana Pfefferkorn, Research Scholar, Stanford Internet Observatory
Mallory Knodel, Chief Technology Officer, Center for Democracy & Technology
Ryan Polk, Director, Internet Policy, Internet Society