National Press Foundation – After Roe: Private Stories, Private Data, Public Listening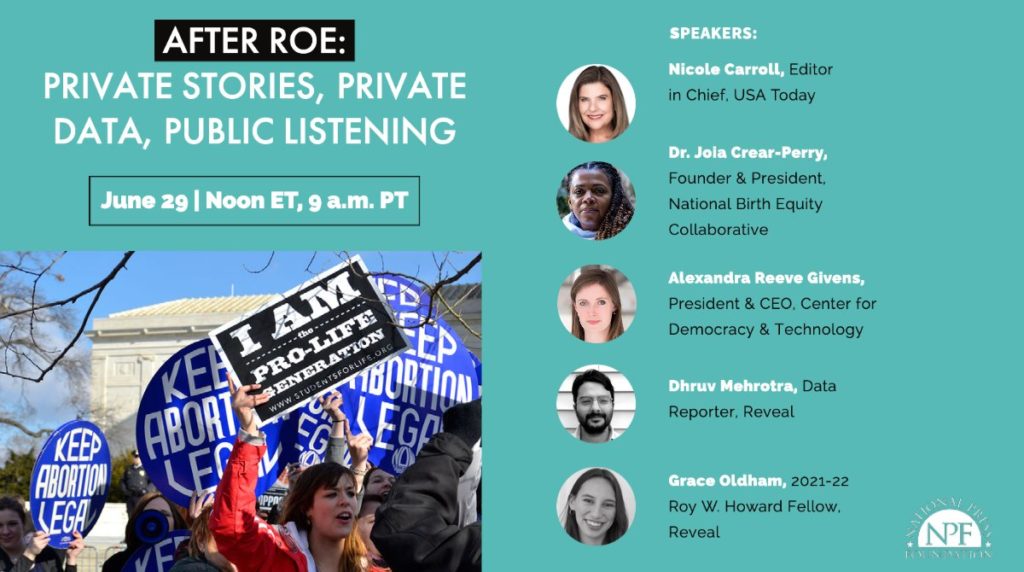 After Roe: Private Stories, Private Data, Public Listening
Date: June 29, 2022
Time: 12-1:30 p.m. ET
In the wake of the Supreme Court's decision to overturn Roe v. Wade, journalists must move beyond the debate to focus on how best to communicate the effects of the ruling on women, families and communities. On June 29, 2022, the National Press Foundation will offer a flash 90-minute online briefing aimed at helping journalists improve their coverage of the highly partisan issue of abortion.
This briefing will focus on three journalistic skills:
Listening: Journalists covering reproductive rights in an increasingly divided nation must accurately reflect the nuances in the positions of numerous sources; listen ever more closely to those with whom they disagree; and report on the effects of those empowered or harmed by the changes.
Probing data privacy: Recent news stories have detailed the failure of data privacy for users of period-tracking-apps; exposed how Facebook is collecting sensitive personal data about abortion-seekers and allowing anti-abortion groups to access it; and exposed how $160 can buy geolocation data that can expose people who visit Planned Parenthood clinics. Google is the first stop for many subpoenas and is already in the crosshairs of pro-choice lawmakers. This briefing will help journalists understand the emerging debate over the potential use of technology to enable exposure or criminal prosecutions of people who seek abortions or assist those who do.
Race and Ethics: How can journalists navigate the ethics of reporting on the sensitive stories being told by women who have had or decided not to have abortions? How can they report on the historically racialized coverage of the abortion issue, and on its disproportionate effects on women and communities of color?
Speakers will include:
Nicole Carroll, Editor in Chief, USA Today
Dr. Joia Crear-Perry, Founder and President, National Birth Equity Collaborative
Alexandra Reeve Givens, President & CEO, Center for Democracy & Technology
Dhruv Mehrotra, Data Reporter, Reveal
Grace Oldham, 2021-22 Roy W. Howard Fellow for Reveal