ITIF: If Congress Overhauls Section 230 to Make Platforms More Liable for User Speech, What Will Change?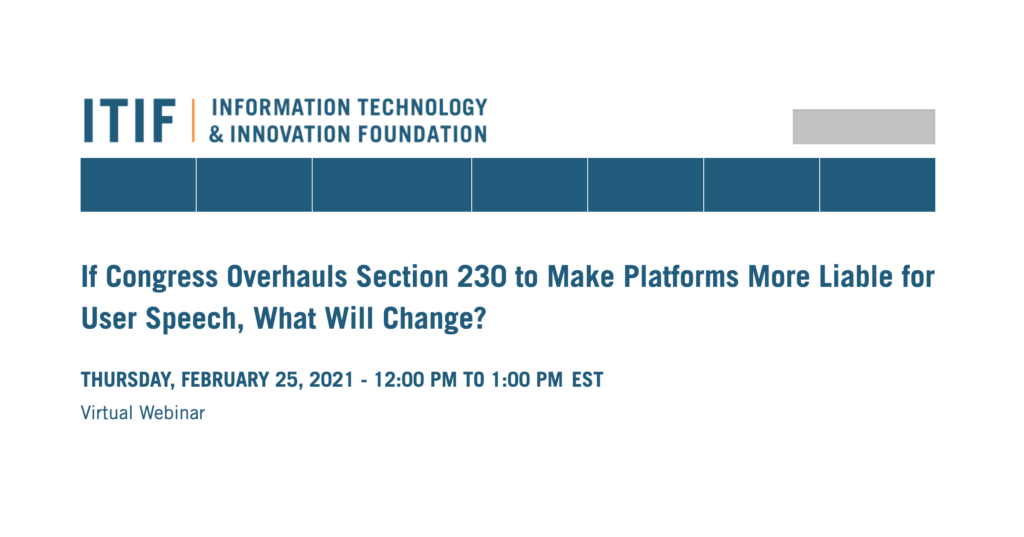 The debate surrounding Section 230 of the Communications Decency Act of 1996 reached a fever pitch over the past year, with policymakers from both sides of the aisle—including former President Trump and President Biden—calling for change.
While much of the most heated debate has focused on political speech on social media, Section 230 is one of the foundational laws of the Internet that provides benefits for everything from e-commerce sites to dating apps to podcasts. However, advocates for reform argue that it has not kept up with the rapid changes in how people share information and conduct business online. Meanwhile, Section 230's supporters contend that any changes to the law could come with devastating consequences for competition, innovation, and free speech.
Please join ITIF for a discussion of these issues with leading experts on intermediary liability, free speech, and content moderation to assess the current debate surrounding Section 230 and forecast how it might unfold in the coming year. #Section230
THURSDAY, FEBRUARY 25, 2021
12:00 PM to 1:00 PM EST
Virtual Webinar
Speakers
Matthew Feeney (@M_feeney)
Director, Project on Emerging Technologies
Cato Institute
Emma Llansó (@ellanso)
Director, Free Expression Project
Center for Democracy & Technology
Matt Perault (@MattPerault)
Director, Center on Science & Technology Policy
Duke University
Ashley Johnson (@ashleyjnsn)
Policy Analyst
Information Technology and Innovation Foundation
Moderator