IP.rec – II Seminar "Encryption, Policy and Fundamental Rights"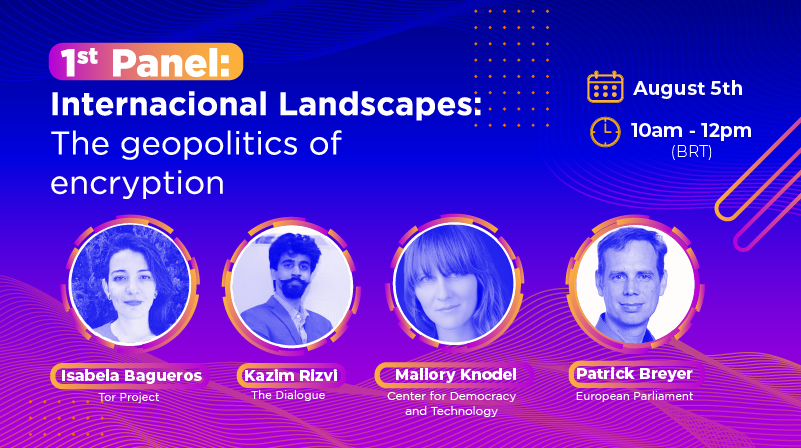 The Law and Technology Research Institute of Recife (IP.rec) is glad to announce the II Seminar "Encryption, Policy and Fundamental Rights".
On Thursday (August 5, 2021), we will gather experts from a diversity of regions of the world to discuss the main encryption policies on the horizon.
Program:
Keynote speech by Neeti Biyani, from Internet Society (India), with a presentation called "Post-Snowden: the encryption 'tug-of-war'"
First panel will address "International landscapes: the geopolitics of encryption". From 10:30 to 12:00 (BRT) –

Kazim Rizvi (The Dialogue – India)
Mallory Knodel (Center for Democracy and Technology – US)
Patrick Breyer (Member of the European Parliament)
Isabelas Bagueros (The Tor Project)
Moderation: André Ramiro (IP.rec).

Second panel (round table) that will approach National challenges: encryption, data protection, and criminal procedures. From 14:00 to 15:30 (BRT) –

Ana Bárbara Gomes (Research Institute for Internet and Society – IRIS – Brazil)
Gustavo Vilar (National Association of Federal Forensics Professionals – Brazil)
Karen Maxim (Zoom – US)
Paulo Rená (IBIDEM – Beta Institute for Internet and Democracy)
Moderation: Raquel Saraiva (IP.rec)
After the seminar, IP.rec will publish a report with the main highlights of the event regarding the speaker's interventions and the rounds of questions of the public.
The event will take place through Zoom and will count on simultaneous translation for both panels, including the keynote. Here's the link for registration.
We event is supported by Internet Society, Internet Society (Brazil Chapter), and Coalition Rights on the Net (Brazil).
It is also part of the program of #CriptoAgosto2021, a series of events and educational actions, coordinated by the Coalition Rights on the Net to promote awareness about the importance of encryption in Brazil.
The seminar will count on a variety of proud members of the Global Encryption Coalition, including the IP.rec, IRIS, CDT, IBIDEM, The Dialogue and the Tor Project.