DEMOCRACY COMPROMISED: Targeted Disinformation and Online Abuse of Women of Color Political Candidates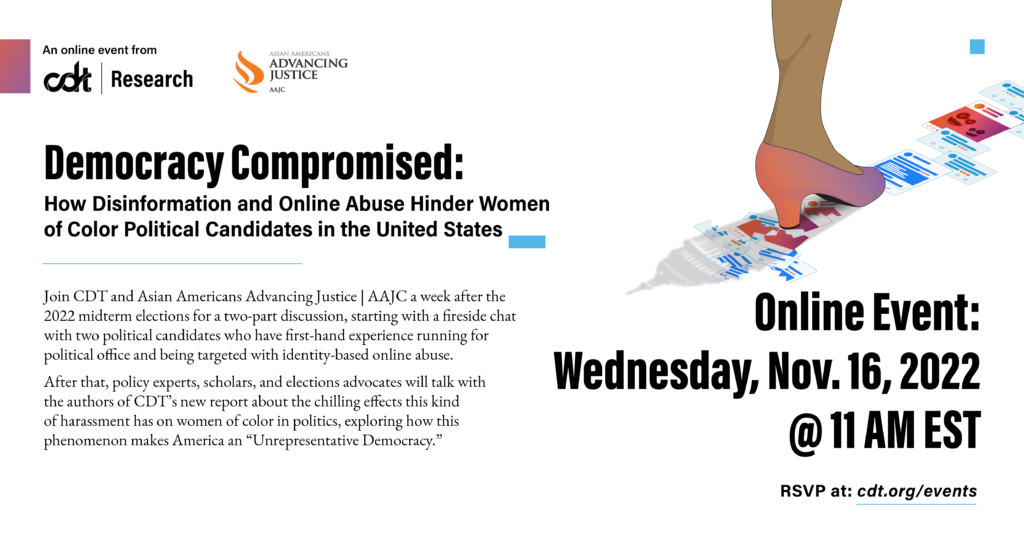 Women of color running for office in the U.S. are four times more likely than white candidates to be the targets of violent online abuse, according to new CDT data. That's just one of many eye-opening findings in a new report showing that women of color candidates in U.S. elections encounter mis- and disinformation and the worst kinds of online harassment at higher rates than other candidates.
What does that mean for the health of our democracy? What can be done to prevent a significant part of the population from being discouraged to participate in representative politics?
Join CDT and Asian Americans Advancing Justice | AAJC a week after the 2022 midterm elections for a two-part discussion. We'll start with a fireside chat with two political candidates who have first-hand experience running for political office and being targeted with identity-based online abuse. After that, policy experts, scholars, and elections advocates will talk with the authors of CDT's new report about the chilling effects this kind of harassment has on women of color in politics, exploring how this phenomenon makes America an "Unrepresentative Democracy."
Fireside Chat Speakers: Laura Murphy, CDT Board Member (moderator); Desiree Tims, 2020 primary candidate for OH-10 (D); Attica Scott, KY State House Rep. (D)
Panel Speakers: Kendra Cotton, CEO, New Georgia Project; Nora Benavidez, Senior Counsel and Director, Digital Justice & Civil Rights, Free Press; Jenny Liu, Disinformation and Misinformation Policy Manager, Asian Americans Advancing Justice | AAJC; Dhanaraj Thakur, CDT Research Director; DeVan Hankerson Madrigal, CDT Research Manager (moderator)
Questions: We will be accepting questions for speakers before and during the discussion. You can submit them via email at [email protected] or via Twitter at #CDT-AAJCQuestions and @CenDemTech. For those joining via computer, you will be able to share your questions  using the chat.
Accessibility: If you have access needs or questions, please contact [email protected] in advance of the event.