Challenging the Use of AI in Public Benefits Determinations: A CDT Report Release Event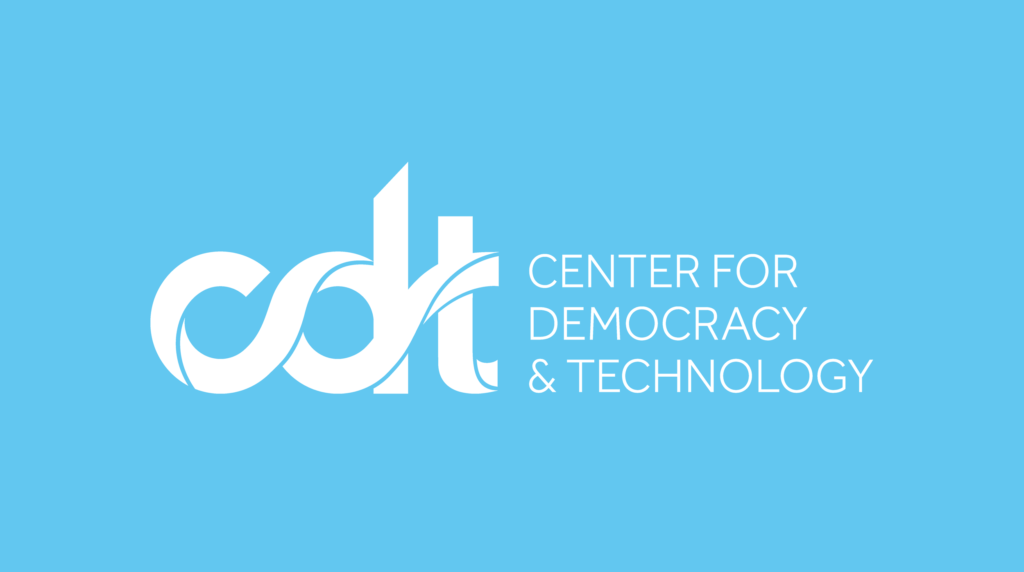 Recording available here.
Report available here.
Date: October 20, 2020
Time: 1-2 PM EST / 12-1 PM CT / 10-11 AM PT
State governments are increasingly relying on algorithms to determine whether, and to what extent, people qualify for public benefits. CDT is excited to present its new report, Challenging the Use of Algorithm-driven Decision-making in Benefits Determinations Affecting People with Disabilities, which analyzes the various litigation strategies for challenging AI used to cut public benefits. Join us for a presentation of the report's key findings, followed by a panel discussion with litigators and benefits recipients about how states' increasing turn to automatic is affecting disabled people's rights. The panel will discuss how advocates have challenged these harms inside the courtroom and through other advocacy strategies.
Presentation: Lydia X. Z. Brown, Policy Counsel on CDT's Privacy & Data Project
Discussion Panel:
Tina Smith Nelson, Manager and Supervising Attorney with AARP Legal Counsel for the Elderly
Kevin De Liban, Director of Advocacy at Legal Aid of Arkansas
Tammy Dobbs, disability justice self-advocate
Moderator: Ridhi Shetty, Policy Counsel on CDT's Privacy & Data Project
We're including closed captioning and ASL interpretation as part of this discussion. If you have other access needs or questions, please contact Timothy Hoagland (he/him), CDT Director of Communications, by Thursday, October 15, 2020 via email at [email protected].
This event will be recorded and shared publicly afterwards.
Bios
Tina Smith Nelson is a Manager and Supervising Attorney with AARP Legal Counsel for the Elderly (LCE) where she manages civil litigation on behalf of D.C. seniors within the Economic and Healthcare Security Practice, which encompasses five projects – Public Benefits, Veterans Advocacy Project, Homebound Elderly Legal Project, Probate and Estate Planning, and Self-Help Offices. Ms. Nelson served in past leadership roles with the DC Consortium of Legal Services Providers. Prior to joining LCE, Ms. Nelson's previous employment included Investigative Counsel with the Office of Inspector General, Legal Services Corporation, and Supervising Attorney with the Maryland Legal Aid Bureau, Inc. As Adjunct Professor, Ms. Nelson taught classes and seminars at The Howard University School of Law, The University of Maryland School of Law Summer General Law Clinical Program, and Montgomery College. She is a past Board member of the former D.C. Law Students in Court program (now Rising for Justice), and has served on the Montgomery County (MD) Commission on Landlord Tenant Affairs. Ms. Nelson earned dual Bachelor of Arts degrees in Political Science and Sociology from The University of Pennsylvania and a Juris Doctorate degree from The Marshall-Wythe School of Law, at the College of William and Mary.
Kevin De Liban is the Director of Advocacy at Legal Aid of Arkansas, nurturing and leading multi-dimensional efforts to improve the lives of low-income Arkansans in matters of health, workers' rights, safety net benefits, housing, consumer rights, and domestic violence. With Legal Aid, he has led a successful litigation campaign in federal and state courts challenging Arkansas's use of an algorithm to cut vital Medicaid home-care benefits to individuals who have disabilities or are elderly. In addition, he and Legal Aid of Arkansas, along with the National Health Law Program and Southern Poverty Law Center, successfully challenged Medicaid work requirements in federal court, ending the state's unlawful use of red-tape that stripped health insurance from over 18,000 people. Kevin regularly presents about imposing accountability on artificial intelligence and algorithms and was a featured speaker at the 2018 AI Now Symposium with leading technologists, academics, and advocates. In 2019, Kevin received the Emerging Leader award from the national community of legal aid lawyers and public defenders. His work has appeared on or in the PBS Newshour, the Washington Post, Wall Street Journal, MSNBC, the Economist, the Verge, and other publications and podcasts. When not practicing law, Kevin is passionately creating music as a rapper.
Tammy Dobbs is a self-advocate for disability rights who, with Kevin, successfully fought Arkansas's use of an algorithm that drastically cut the hours of care for people who were receiving the ARChoices home- and community-based services waiver. She also helped amplify the issue in the media.