CDT Tech Tales: Discussing Privacy & Tech Use with Parents & Education Leaders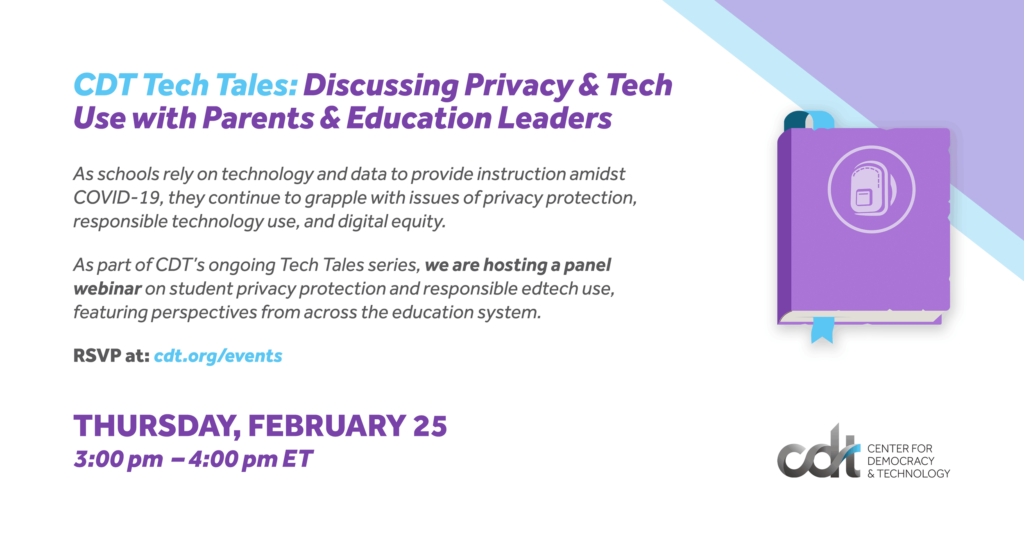 **  Watch the recording here.  **
As schools rely on technology and data to provide instruction amidst COVID-19, they continue to grapple with issues of privacy protection, responsible technology use, and digital equity. Our recent research found that twice as many teachers described edtech as "very important" during COVID-19 as they did prior to the pandemic, yet a third of parents and teachers reported increased concerns about student privacy during the pandemic. These issues intersect across all layers of the education system, requiring thoughtful coordination between education practitioners, school staff, and the families they serve.
As part of CDT's ongoing Tech Tales series, we hosted a panel webinar on student privacy protection and responsible edtech use, featuring perspectives from across the education system. In sharing their experiences navigating these issues in their daily lives as parents, school administrators, and education stakeholders, our panelists discussed how a collaborative approach to school technology helps ensure that its benefits are realized for all students safely and equitably.
Date: Thursday, Feb. 25, 3:00 pm ET
Who:
Accessibility: If you have access needs or questions, please contact Timothy Hoagland (he/him), CDT Deputy Director of Communications, in advance of the event via email at [email protected].