(All Tech Is Human and TheBridge) Improving Social Media: Reducing Gender-Based Violence Online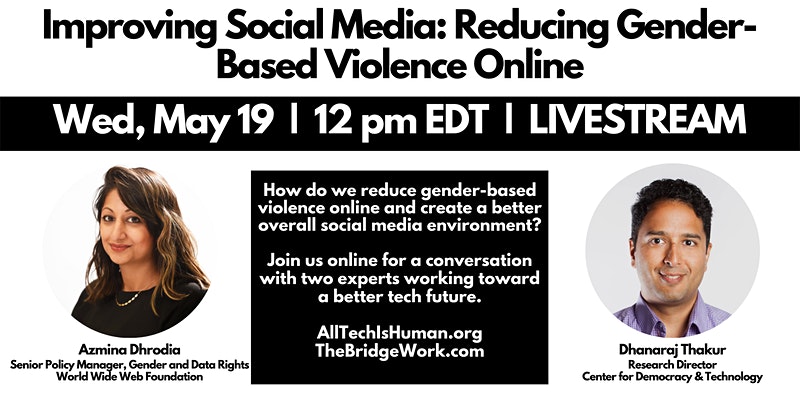 How do we reduce gender-based violence online and create a better overall social media environment? Join for this interactive discussion!
Join a highly-interactive livestream conversation with two leading experts in the field. Speakers are Azmina Dhrodia (Senior Policy Manager on Gender and Data Rights at the Web Foundation) and Dhanaraj Thakur (Research Director at the Center for Democracy & Technology).
This conversation is part of a monthly livestream series with All Tech Is Human and TheBridge. Recent guests have included Safiya Noble, Yael Eisenstat, Dipayan Ghosh, Sarah T. Roberts, Mutale Nkonde, Claire Wardle, Charlton McIlwain, Kate Klonick, Timnit Gebru, Meredith Broussard and many more. This conversation will be moderated by David Ryan Polgar, founder of All Tech Is Human and a member of TikTok's Content Advisory Council.
The livestream will be recorded. In addition, a follow-up podcast and curated resources will be supplied by the Radical AI Podcast.
All Tech Is Human recently released its report, Improving Social Media: The People, Organizations and Ideas for a Better Tech Future. You can read and download this report, which features a diverse range of 42 interviews, over 100 organizations, and involved 100 collaborators, at ImprovingSocialMedia.com.
Questions? Write to us at [email protected].
Date: Wed, May 19, 2021
Time: 12:00 PM – 12:45 PM EDT