2020 SPOKES Privacy Conference: Privacy and Technology Policy in the Next Four Years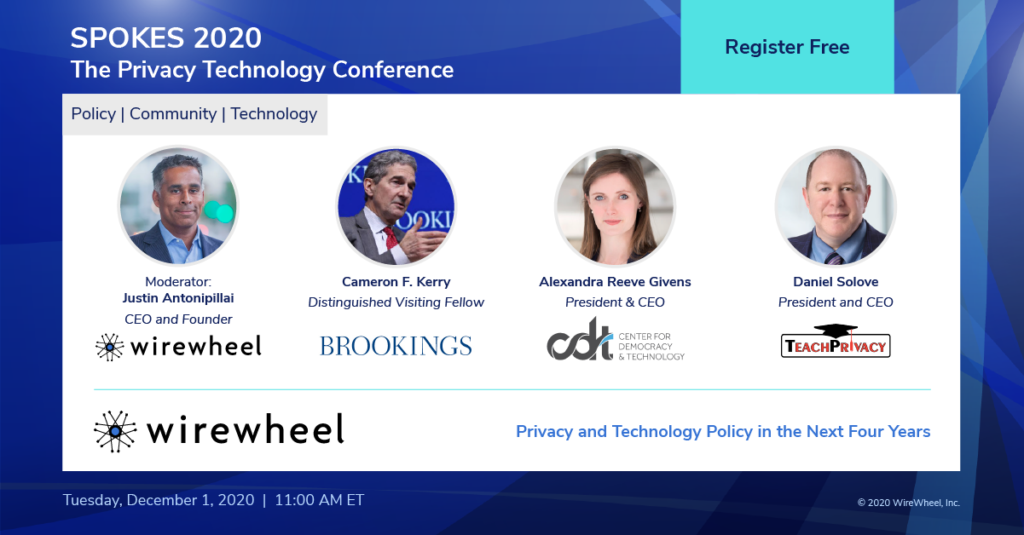 Join leading voices in the privacy community for an exclusive, virtual conference – the 2020 SPOKES Privacy Conference. This one-day gathering brings together some of the brightest minds in privacy, policy, and technology to offer advice on the industry's hottest topics.
Conference Topics:
Impact of Privacy Regulations on MarTech and AdTech
Tech Policy and the 2020 U.S. Election
Leveraging Privacy as a Business Differentiator
Consumer Preferences and Behaviors on Data Privacy
Date: Tuesday, December 1, 2020
Time: 11:00 – 11:50 AM ET
Privacy and Technology Policy in the Next Four Years
Data is generated from more devices than ever before. This technological change provides tremendous opportunity to advance human knowledge, and at the same time, expands the risk to human rights. Join Alexandra Reeves Givens, president and CEO of the Center for Democracy and Technology, Cameron F. Kerry, Distinguished Visiting Fellow at the Brookings Institution, and Daniel Solove, founder and CEO of TeachPrivacy, as they discuss the need for companies to put democracy and individual rights at the center of the digital revolution.
RSVP & more info here: https://wirewheel.io/spokes-privacy-conference/.